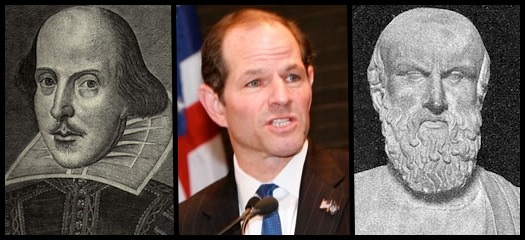 Over the weekend, NYT followed up on what Eliot Spitzer's doing these days (aside from, you know, "hanging out" with his kids). A few of the highlights...
+ According to Alan Dershowitz, Spitzer is "not goofing off."
+ He has to -- gasp! -- hail his own cabs and buy his own coffee now.
+ The last time he talked to David Paterson was in June when he called to wish the now-Gov good luck in the Utica Boilermaker. And he apparently got seriously ticked off at Paterson in August after the Gov made comments indicating that Spitzer's people didn't know what they were doing in Albany.
+ Spitzer reportedly thinks of his tragedy as Greek. Good call.
And from Spitzer emails NYT got a hold of via FOIL:
+ David Paterson's strong suit is not punctuality.
+ Amtrak officials realize their service sucks sometimes.

Hi there. Comments have been closed for this item. Still have something to say? Contact us.