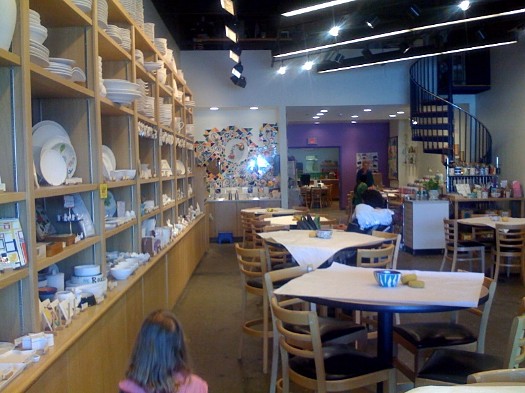 By Amy Brozio-Andrews
If you're anything like me, you've been past that pottery place in Stuyvesant Plaza a dozen times and always wondered what it was all about.
Well, wonder no longer. It's The Pottery Place and it's tons of fun. If you loved art in elementary school, it's the perfect place to channel your inner child.
It's easy to spend more than you think at the Pottery Place (my family of four's pottery projects ran more than $100 on each of two recent visits), but with a little planning, you can have a great time, a homemade conversation piece, and not break the bank.
When you first go in, you're greeted by the friendly staff quick to give you the rundown on how it works. First you wash your hands to remove any oils that may affect the pottery. Then you can choose your pottery. Prices range from $4 to $70, with most falling in the $10-35 range. There's everything from plates and vases to mugs and pet bowls, cell phone and business card holders, seasonal decorations, teapots, figurines, and more.
You get a quick primer on how to paint pottery and choose your allotted four or five paint colors. Once you're finished painting, you pay for your art and leave your pieces behind to be glazed and fired. Seven days later, you can go back and pick up your finished pottery. (That's the only bad part -- if you're planning to give a homemade gift, you really need to plan ahead; and if you're taking small children, you might have a tough time explaining that the lucky cat figurine your kid just spent an hour slaving over can't go home with you for a whole week.)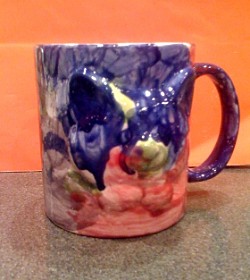 The Pottery Place is very welcoming to families and children. There's no wrong way to paint a piece of pottery and everyone's made to feel quite comfortable, regardless of skill level (no, seriously -- you don't know how many colors my kid painted a cat; look at that picture on the right!). There's a great color board with samples of all the paint colors so that you can choose what you want based on what the final glazed and fired color will be (the paint comes out quite flat and dull looking on the unfired pottery). It's not all geared toward kids though. The two times I've been there, the studio was filled with a mix of families, friends, and couples.
The staff is great about answering questions. There are also stencils, stamps, and stickers available to help you create a one-of-a-kind design. Studio time is $8 per hour for each person painting pottery. It does add up quickly, but if you're careful about what pottery pieces you choose, and if you go on Tuesdays (2 for 1 studio fees) or Thursdays ($10 flat studio fee from 6-9 p.m.), you'll still have some money left for the piggy bank you just painted.
No appointments are necessary, you can just walk-in, but know that weekends are busier than weekdays. It's a good idea to stop by and pick up one of their fall program brochures. There are a number of kids programs that are really affordable and on Oct. 24 from 6-9 pm, you can get 1/2 price studio time if you go wearing your Halloween costume.
Earlier on AOA: The Albany Art Room
Find It
The Pottery Place
Styuvesant Plaza
Albany, NY 12203
(518) 446-0870
Hi there. Comments have been closed for this item. Still have something to say? Contact us.