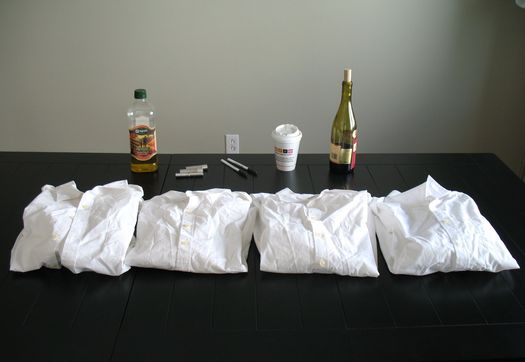 So you spilled something on a dress shirt -- does it matter which cleaner you take it to? Will one place do a better job than another at getting the stain out?
We were curious if the cleaner made any difference. So we bought four identical white dress shirts, stained them with five different substances, and took one each to dry cleaners around the Capital Region.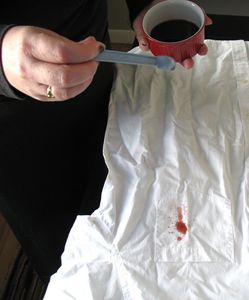 Here's the setup...
We used four identical men's white oxford cloth shirts bought new from Target.
Each shirt got stained with red lipstick, red wine, olive oil, coffee and black ballpoint pen -- the stains were in roughly the same spot on each shirt.
We took the shirts to four Capital Region cleaners: KEM, Best Cleaners, Cudney's and Executive Cleaners. We picked these cleaners because they have multiple locations and/or good reputations. The shirts were dropped off for cleaning with no special mention of the stains -- and we asked for no starch.
After picking up the shirts, we examined them in sunlight for spots. Here's how they stacked up against each other.
lipstick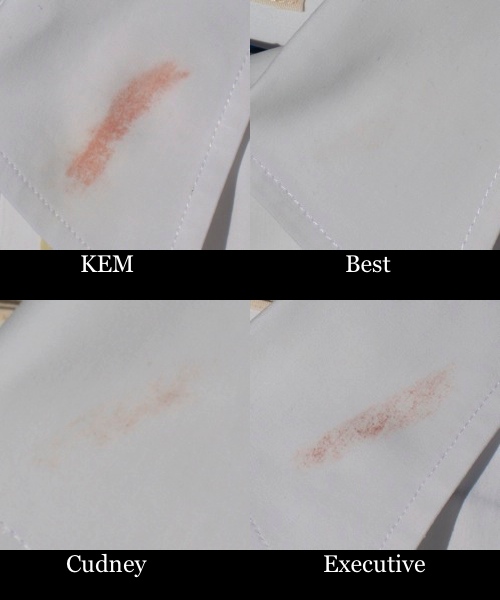 winner: Best
notes: We figured the lipstick stain was kind of an absurd challenge because we smeared it on directly from the stick. None of the cleaners was able to get the stain completely out, but Best came close. Special mention also goes to Cudney's, which did almost as well.
red wine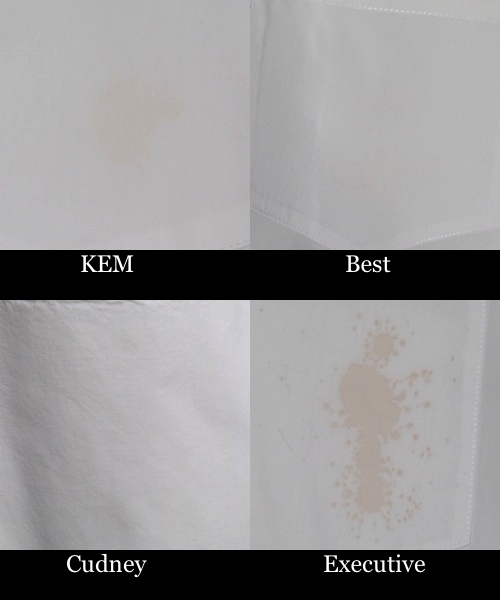 winner: Best/Cudney's
notes: As best we can tell, both Best and Cudney's were able to get the wine stain out. If it was still present, it was very faint. KEM made a good effort, but the stain was still apparent. Executive didn't come close.
coffee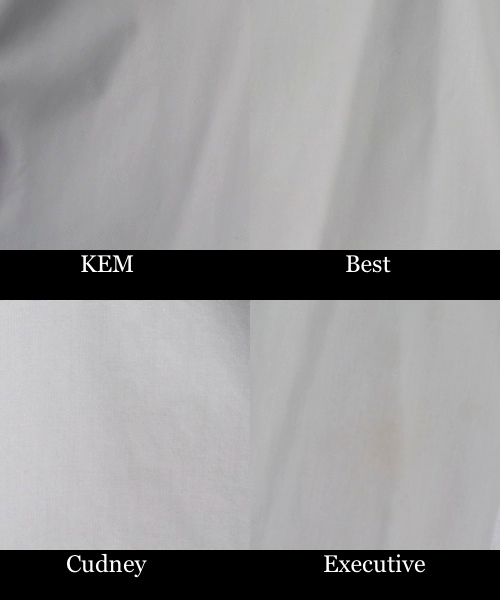 winner: Best/KEM/Cudney's
notes: We were surprised how easily the coffee stains seem to have come out, as three of the cleaners appeared to be able to completely eliminate it. Executive came close, but the stain was still noticeable if you looked closely (the photo doesn't quite capture it).
olive oil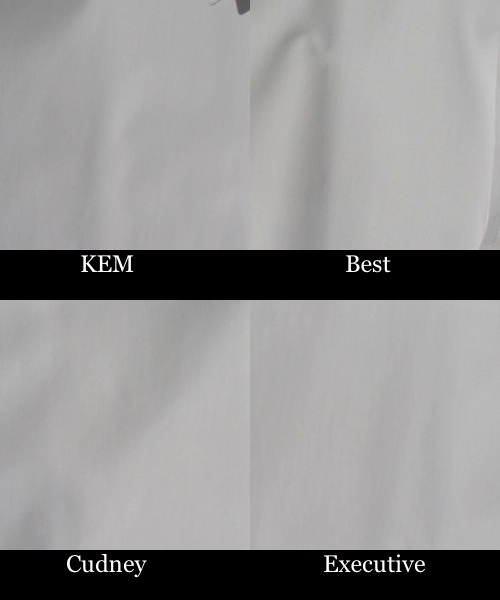 winner: all four
notes: We figured this might be a tough one, but we were wrong. All four cleaners tackled this stain with seemingly no problem.
ballpoint pen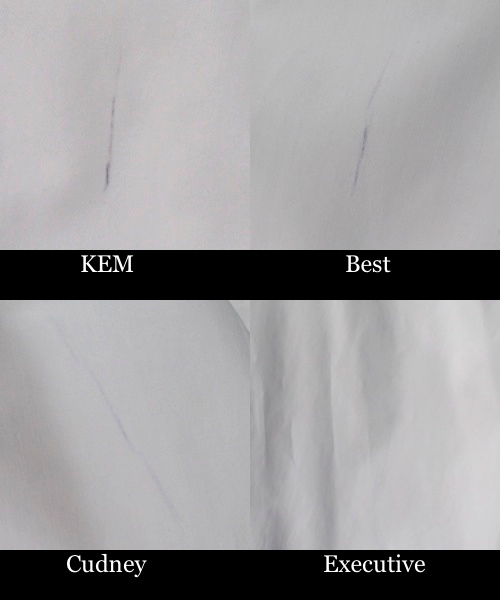 winner: Executive
notes: This one surprised us. Not only was it a difficult stain to eliminate, the only cleaner to get rid of it was Executive, which had some problems with the other stains. Cudney's was close. Best and KEM weren't.
A few details:
+ Each stain, except for the ink, was blotted once with a paper towel.
+ The wine, coffee and oil stains were the result of 1/4 teaspoon dripped onto the shirts.
+ The wine was pino noir, the coffee was regular from Dunkin' Donuts (no cream or sugar) and oil was extra virgin olive.
+ The lipstick was applied directly to the shirt.
+ The pen was a black Bic medium ballpoint.
+ We didn't use scientific instruments for measurements, so your mileage will almost certainly vary.
+ Locations: Best Cleaners in Latham, Cudney's on Broadway in Saratoga, Executive at Stuyvesant Plaza, KEM on Madison in Albany.
+ This wasn't intended to be a comprehensive survey of Capital Region dry cleaners.
Discussion
Going into this comparison, we guessed the cleaner wouldn't matter. But in this case, it did. Best and Cudney's were clearly better than KEM and Executive. That said, none of the cleaners was able to take out all the stains. And Executive was the only one to eliminate the pen mark.
We were a little surprised that Executive didn't fare better. It has a good reputation and we've used them in the past and been happy with the results.
We also wonder about KEM. It's currently in the process of transforming itself into Greener Cleaners and we're curious if the company's new environmentally friendly cleaning technique is as good as the old method. Unfortunately, we don't have a baseline to test it against.
Whatever the respective stain fighting performance of the cleaners, they didn't vary much on price. Executive was the cheapest ($2.90), followed by Cudney's and KEM (both $2.95) and then Best ($3.05).
Best was able to get the shirt back a day earlier, though. It also didn't note that the shirt had stains or had gotten any special treatment. Both Cudney's and Executive did note special treatment with a note. KEM noted it verbally -- the lady at the counter explained they held the shirt an extra day for special attention (she had Tide-sticked it herself).

The Bottom Line
According to our small test, it does matter which dry cleaner you use to get stains out of your shirts. Best was, well, the best of the group, followed closely by Cudney's. KEM was next, and Executive was after them.
Hi there. Comments have been closed for this item. Still have something to say? Contact us.