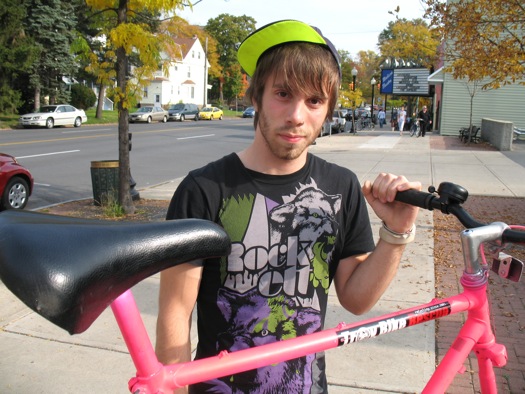 We first saw The Big Pink Bike (our name for it) after Jess spotted it back in August. And since then, it seems like we've either been seeing it, or hearing about it, everywhere.
So who is this guy who rides The Big Pink Bike?
His name is Andrew Franciosa. He's a junior at UAlbany. And he was nice enough to answer a few questions we had -- most of all, why?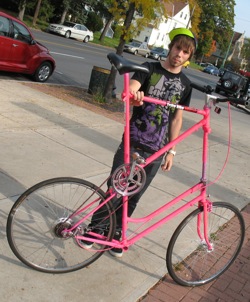 Why did you build the bike?
Because I was able to, really. I had access to the materials and the means.
It's a great way to get people interested in bikes and cycling since it's 'cooler' than fast road bikes and guys with shaved legs in spandex. (And for the record, I own plenty of spandex, have a road bike and shave my legs.)
Also, believe it or not, it's safer. People notice you way sooner than they would on a normal bicycle, and you can see over parked and moving cars to see if there's any cars coming through an intersection or what have you.
And lastly it's a great way to get the word out about Troy Bike Rescue.
What gave you the idea?
My friend Dakota had one that he made a few years ago, and it was really the only one in the area for a long time. Somewhere along the line we got our hands on a mig-welder so the idea of making another one wasn't too far off anymore. After a little while we got everything together and made it at Troy Bike Rescue in Troy. It took less than 4 hours from start to finish.
Originally, these bikes were utilitarian. They're from the 1800s when city lamps were gas. Someone had the job of lighting these [lamps], so riding a tall bike was way easier and more efficient than a horse drawn carriage with a ladder.
How much harder is it to ride than a regular bike?
Actually riding it is not harder in any way. The only thing that different is getting on, and once you figure it out it becomes second nature. Getting off the bike is easy as well.

You built it to call attention to cycling. Why did you want to do that?
Most motorists [think] that cyclists are nothing other than nuisances on 'their' roads. I got punched in the face by one of these motorists since I was in his road. I was as far right as was safe in a TWO LANE strip of Fuller. There was an ENTIRE lane he had to pass me.
No one really realizes that a bicycle is an actual mode of transportation. The fluorescent pink tall bike takes almost all the seriousness out of the equation so people tend to get a kick out of the bike and enjoy seeing something they've never seen. I've never been riding any of my other bikes and have someone driving along side of me compliment it.

Is there a big "bike culture" in Albany?
It's there, but not big by any means. I grew up right outside NYC so that's my only frame of reference, and compared to NYC most things simply can't compare.
But as far as bike culture in Albany goes, there is a lot going on. There are messenger style "scavenger hunts" throughout the city called alleycats, which a lot of people usually show up to as it's always fun to ride around and try to win. The Albany Bike Coalition is always constantly helping make this city more bike-friendly through activism and actually meeting with government officials.
There is a racing club which I'm a member of which is called Capital Bicycle Racing Club, which is great for doing training rides with and throwing and attending races with.
Last, but not least, is my own website, bikealbany.com, which provides cyclists a place to check to see if there are any cycling-related events happening in the Capital District. Also my website has a forum where cyclists from the area have a place to hang out online and chat about whatever it is they want.
What is it about cycling that you love so much?
I don't know. I lost a lot of weight in high school due to my first road bike. I ended up selling that bike, getting a fixed gear and having only that bike for a while. Soon after that I got another fixed gear, a vintage road bike, the tallbike, and most recently my cyclocross bike.
It's a lot of fun to race competitively and I just can't get enough of it. I pretty much would always rather be riding my bike.
This interview was conducted via email and lightly edited.
So, how easy is it to get on and off Andrew's tall, pink bike? Here's a clip of him doing just that:
Hi there. Comments have been closed for this item. Still have something to say? Contact us.