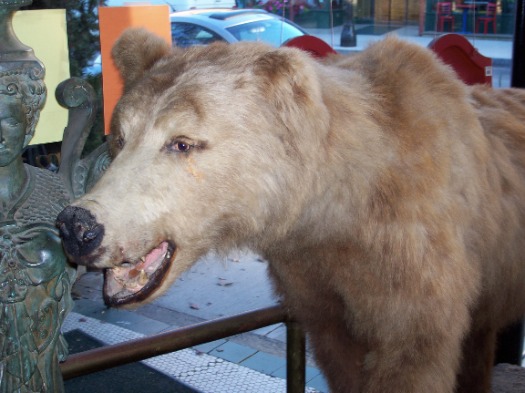 By Jessica Pasko
If you're headed to Chatham for the FilmColumbia film fest this weekend, be sure to stop in for a pint or two at Main Street's Peint o Gwrw Tafarn.
Where? The name is Welsh and it's pronounced "pint o ger-ROO" -- which means pint of ale -- but locals know it simply as "the pub." And not only is it the only Welsh-style pub in Chatham (or, as far as we can tell, the whole area), it may also represent your only opportunity to sip a pint in the middle of a taxidermied menagerie.
Yep. You read that correctly.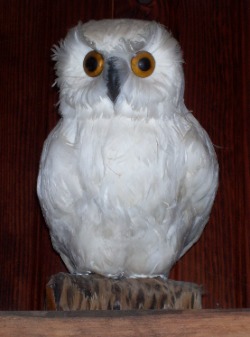 When you walk into Peint o Gwrw Tafarn, you're immediately "greeted' by a life-size stuffed bear on all fours. And no, we don't mean the teddy bear kind. These stuffed animals are, well, stuffed. It's a little off-putting actually. Stuffed owls, pheasants and game birds are arranged throughout the rest of the tavern, interspersed with Welsh flags, pieces of armor and decorative swords. That's along with the plenitude of mounted deer heads and antlers.
Rumor has it that there used to be a stuffed cat in the women's bathroom (yes, a real deceased house cat) but they had to remove it because people kept moving the feline, or trying to take it. Now two stuffed cats glare out with glassy eyes from behind the bar. No joke. It's a little eerie actually.
With its long, low main room and old-school tin ceilings, Peint o Gwrw Tafarn is the kind of place where you can just feel totally relaxed as you sip your brew. Carved beams overlook comfy benches and a fireplace near the back. It's the kind of place where weekenders and locals alike rub elbows; it's unpretentiously hip and people of all walks seem equally comfortable here. There's even a funny little smoking room upstairs.
And while I've never been to a pub in Wales, it certainly seems authentic, right down to owner Thomas Hope, with his bushy gray mustache and button-up vest. Hope, raised locally by Welsh coal miners, opened the pub in 2001 after living in San Francisco and New York City.
The menu boasts a bunch of typical pub grub such as fish and chips, pigs in bacon, steak fries and wings, along with a few less expected items like baba ghannouj and falafel. Oh, and something listed only as "block o'cheese." On a recent visit, a sign behind the bar advertised the "Wall Street Dinner: Hot Dog for $1." The pub also serves several brews from local brewer Chatham Brewing.
Find It
Peint o Gwrw Tafarn
36 Main St
Chatham, NY 12037
(518) 392-2337
Hi there. Comments have been closed for this item. Still have something to say? Contact us.