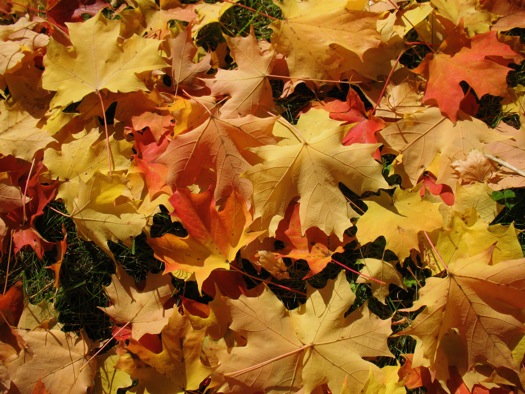 We're big fans of autumn walks. There's the foliage, of course (we refuse to use the term "leaf peeping" -- it just sounds wrong). But we also love the cool air, the warm sun, the bright blue sky, and the crunch of leaves.
Here are a few of our favorites places to take a walk this time of year...
Rensselaerville (map)
The town with the name that sounds like it should be in a different place (it's actually in far west Albany County.) It seems like it should always be autumn in this place -- the village just looks right with all the foliage. A little outside of town is the beautiful Rensselaerville Institute and the Huyck Preserve, which has a trail that leads to the Rensselaerville Falls. And, hey, you never know when you'll see Andy Rooney.
Thacher State Park (map)
A great place to escarp for the afternoon. (Oof, we know, bad geology joke.) And, hey, you only have another month until the Indian Ladder trail closes for the season. Admission for a car load is $6.
Saratoga National Historical Park (map)
Ponder the turning point of the revolutionary war or just look at the leaves. You can bike, hike or drive through the Saratoga National Historical Park. If you're in it for nature, just wander. If you want a little history, you can start at the visitors center for a short orientation film and a map. Tour road is 9.5 miles. The hiking trail is 4 miles. There's also an 8 mile trail. It's $5 for cars, $3 for bicycles and hikers.
Prospect Mountain (map)
If you're up for a trip to Lake George, you can hike part of Prospect Mountain. It's $7 per car to get on the mountain. Then you drive to a plateau where you can hike or take the bus to the top. There are trails to wander and on a clear day you can see the Empire State Plaza and the mountains of Vermont.
Peebles Island (map)
Even though it's located right the middle of the Capital Region, this park seems to very often be overlooked. It's a beautiful spot at the confluence of the Hudson and Mohawk. It's $6 for cars.
Albany Rural Cemetery (map)
This is another overlooked spot right in the middle of things (Menands isn't so rural anymore.) You can wander among the grave stones for hours and not see another soul. We like to walk a loop that swings by the grave of President Chester A. Arthur.
A few other spots that make for nice walks this time of year: Oakwood Cemetery in Troy, Central Park in Schenectady (near the rose garden), Corning Preserve, and the "hiking trail" at Capital Hills golf course in Albany (it's hilly).
Got a favorite spot for walk this time of year? Share!

Hi there. Comments have been closed for this item. Still have something to say? Contact us.