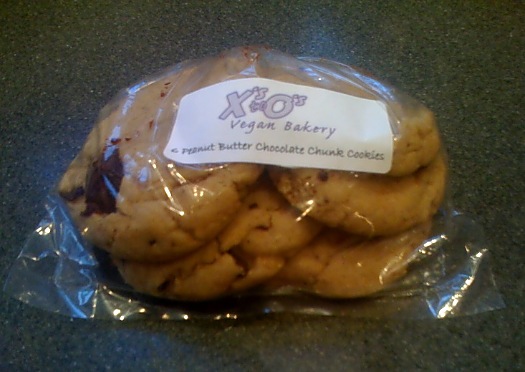 By Amy Brozio-Andrews
I love Etsy's search local function. It's how I found X's to O's Vegan Bakery, located right here in Albany. It bakes up vegan cookies, cream-filled canoe boats, brownies, and custom items like cupcakes, cakes, and pies. But how do you know if mail-order (vegan!) baked goods are any, well... good?
I was glad to take one for the team here.
X's to O's Vegan Bakery items are sold locally at It's Only Natural in Stuyvesant Plaza. I stopped by and bought vanilla cream-filled canoe boats, peanut butter chocolate chunk cookies, and halfmoon cookies. Then I taste-tested them with my family (yeah, they sure didn't complain when I made them all sit down in front of a plate of bakery things and said "Everyone needs to try one of everything on that plate!" It took about two seconds. I didn't even get to take a picture of the full plate...).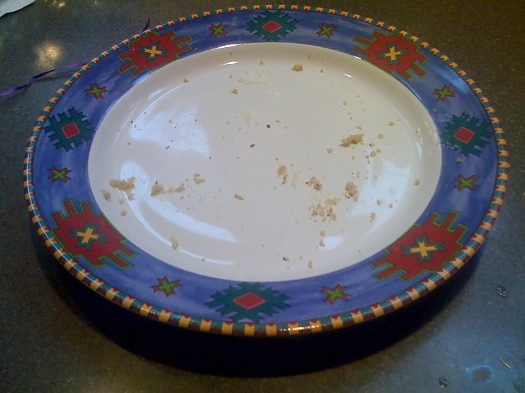 The verdict
We've never had vegan baked goods and really didn't know what to expect. The response was overwhelmingly positive. You wouldn't know that these were vegan treats at all - it's not like comparing veggie sausage to pork sausage. This is no substitution; this is the real deal. Everything was really fresh and delicious and tasted homemade. My choosy kids even fought over the last vanilla cream-filled canoe boat!
The peanut butter chocolate chunk cookies are loaded with chips and have a very subtle peanut butter flavor. The halfmoon cookies were very soft and like real cookies, not cake-like as some halfmoon cookies turn out. The chocolate part of the frosting is rich and the vanilla side is light and not too sweet. Both my better half and I think these are as close to the downstate black and white cookies from home that we miss so much as we've ever had in Albany.
And the vanilla cream-filled boats -- I've saved the best for last -- think Twinkies only real. (The bakery also makes a carrot cake version and a cookies and cream version.)
The baker
I emailed Sarah at X's to O's Vegan Bakery and asked her about her work. From her response:
"First off, let me just say that vegan baking is my passion. I absolutely love it. I feel that I get to be extremely creative with ingredients while staying within my ethical choices. I first became interested in vegan baking a few weeks after I had decided to become vegan. I was vegetarian for several years and by learning more about the dairy/factory farm industry became extremely disgusted with how this society treats animals. I dove right in and haven't looked back since.
"When I was a child my grandmother owned a cake decorating business and always asked me to help her. My love of baking stems from those experiences as a child. I realized that now as a vegan I wasn't going to find many choices in the baked goods world, so I started to teach myself how to 'veganize' every recipe I could. I used some amazing vegan cookbooks to learn the basics and then went onto changing family recipes so I would want to eat them. Eventually I became so comfortable with the ingredients and baking ratios that I was able to create my own delicious recipes."
I had to ask her about the canoe boats -- were Twinkies her inspiration?
"Twinkies were somewhat the inspiration for my canoe boats. I was never a fan of Twinkies because they are disgusting little cakes full of processed garbage. They are so filled with processed garbage that they can last for years. Now why would anyone want to eat something that is so chemically filled? I wanted people to realize that being vegan is amazing and you can eat anything as long as you can make it or find someone to make it for you. That is really the inspiration behind the canoe boats...to make being vegan easy because it really is."
I also asked her about refrigeration. The baked goods I bought were all out of the refrigerator; did I need to keep them in the refrigerator?
"They do last much, much longer if you refrigerate them so that basically increases their shelf life. I never refrigerate cookies at home, but I will refrigerate cakes and brownies because they stay moister that way. You can also be like my mom and freeze your canoe boats because they last way longer that way."
Sarah says she does have plans to eventually open a retail location; for now, you can satisfy your vegan sweet tooth by mail order or buying locally at It's Only Natural in Stuyvesant Plaza in Albany.

The price
I bought one package of vanilla cream-filled canoe boats (2 in a pkg.) for $3.99, one bag of peanut butter chocolate chunk cookies (6 in a pkg) for $7.99, and one halfmoon cookie for $3.49. It was a little expensive for everyday snacking but definitely worth it for a special treat.
Find It
X's to O's vegan baked goods at It's Only Natural
Stuyvesant Plaza
Albany, NY 12203
Say Something!
We'd really like you to take part in the conversation here at All Over Albany. But we do have a few rules here. Don't worry, they're easy. The first: be kind. The second: treat everyone else with the same respect you'd like to see in return. Cool? Great, post away. Comments are moderated so it might take a little while for your comment to show up. Thanks for being patient.