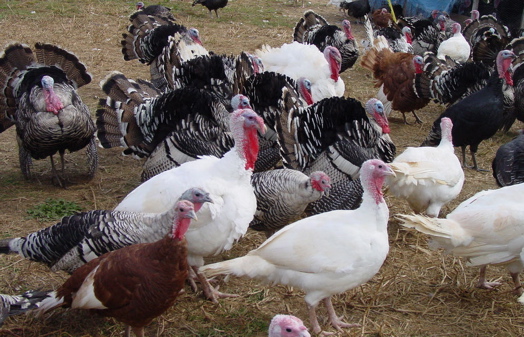 By Amy Brozio-Andrews
Vegetarians, avert your eyes... we're coming up on Thanksgiving and if AOA's previous post on buying your still-mooing beef has inspired you, you might be thinking about heading out to pick out a turkey to grace your table on November 27.
Er, not so fast...
Turns out that most farms that sell fresh turkeys direct to customers simply take orders, you don't get to go to the farm and say, "I want that one!" Most available turkeys are Broad-breasted Whites, the same kind you can buy in the grocery store (although a lot of farms have certified organic turkeys) and run $3-4 per pound. Also, you really need to plan ahead. For example, the Braun Farm in Canastota requires Thanksgiving turkey orders to be placed by June.
Maureen Knapp of Cobblestone Valley Farm in Preble begins sending out announcements about Thanksgiving turkey orders to her CSA customers in the spring, with the first group of certified organic turkeys available in August; by the beginning of October, she's sold out. While you don't get to pick your turkey, the pick-ups are first come, first served so if you want a big bird (the average is 15-16 lbs. and is about $3.50 per pound) you need to get there early.
Don't despair yet though, the good folks at Burl Creek Farm in Clyde (out near Rochester and Syracuse) are still taking a few more orders. It's certainly a drive, but if you really have your heart set on it and want to head out to the farm, Rachel Burley says they would indeed let you pick out your own (although most people don't choose to do that). They process all the turkeys on the Saturday before Thanksgiving and they're ready for customer pick-up by Sunday afternoon on the farm. (And if the weather's nice, there might be wagon rides!) If you're interested, call (315) 923-4730 to reserve your bird. Seriously, if you want one, you should do it now, before the last reservation is "gobbled" up.
(C'mon, I had to get that in somewhere...)
You can still order a farm fresh Thanksgiving turkey from:
Burl Creek Farm, Clyde, NY | (315) 923-4730
Also mentioned:
The Braun Farm, Canastota, NY | (315) 655-2837
Cobblestone Valley Farm, Preble, NY | (607) 749-4032
Later on AOA: Turkey time at Coldwater Creek Farm in Rensselaer County
photo: Flickr user ExperienceLA
Hi there. Comments have been closed for this item. Still have something to say? Contact us.