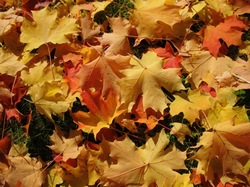 It is unusually warm today -- like early Fall warm (the average high temp this time of year is around 50 degrees).
So does this count as "Indian Summer?"
Er, probably not.
A National Weather Service historian says the term "Indian Summer" is "generally associated with a period of considerably above normal temperatures, accompanied by dry and hazy conditions ushered in on a south or southwesterly breeze."
And according to Wikipedia (so, you know, it must be true), the term refers to weather that "must be above 21°C (70°F) for seven days after the autumnal equinox." So, 60s don't quite cut it.
Whatever you call it, we're liking it. Unless this is a sign of global warming. And then we feel bad for the polar bears. And the maple trees. And the Maldives.
News to us: an alternate name for Indian summer in Europe is "St. Martin's Summer," which refers to the feast of St. Martin on November 11.
Hi there. Comments have been closed for this item. Still have something to say? Contact us.