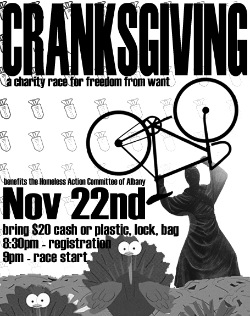 It's a canned food drive! It's a bike race! It's both!
Here's how Andrew (Pink Tallbike) Franciosa described Cranksgiving to us:
This race takes place the weekend before Thanksgiving every year. There's no registration fee, but riders bring money with them, because the checkpoints are all grocery stores. At these grocery stores, they have to leave their bike outside, run in, and purchase a specified food item. Once they've collected all of the food items and have finished the race (we check the receipts to make sure they didn't cheat), all of the food gets donated to the Albany Homeless Action Committee.

Registration starts at 8:30 pm Saturday night (you'll need $20, a bag and a lock -- and, we're guessing, a light) at the memorial near State and Henry Johnson in Albany's Washington Park.
By the way: if you're curious about the backstory to Cranksgiving, it was started by bike messengers in New York City in 1999.