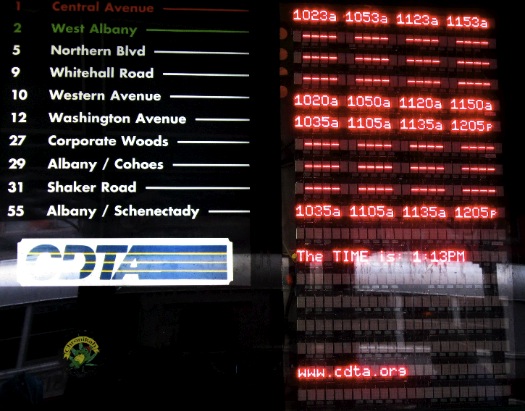 Dear CDTA,
We know how hard you're working to get us to ride the bus in the Capital Region. We appreciate that it's green and all -- and we love the song -- but CDTA, you gotta help us out here.
After looking at the weather forecast, we thought today might be a good day to try busing our way to AOA headquarters.
Here's the thing: in order to take the bus, it helps to know -- you know -- when the bus is coming. When we arrived to meet the No.10 at Washington and Lark at 12:12, we noticed this electronic sign in the bus shelter. The current time read 1:15. And the schedule, which is supposed to let people know when to expect the next four buses on each line, only listed buses that had already come and gone.
To be fair, we had checked the schedule online before leaving the house, and it was accurate. But that's not always an option.
We hate to complain. All in all we had a pleasant ride, a courteous driver and we arrived at HQ with time to spare. (Apparently enough to bug you with this note at least.) But we've heard from others that these signs have been a problem for a while now, and it looks, well, a little ridiculous. So if you've got a few minutes, fixing it would make our day. Thanks.
Sincerely,
The friendly commuters at AOA.
Hi there. Comments have been closed for this item. Still have something to say? Contact us.