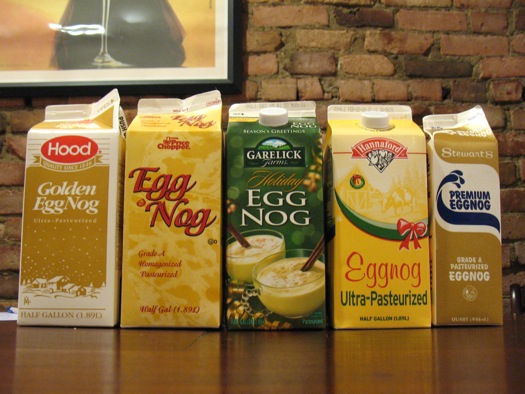 We got an email from Meagan last week:

Every holiday season, I find myself in an egg nog debate with a friend/coworker/stranger about who makes the best egg nog. My family and I are loyal fans of Stewart's egg nog (the premium one, not that "light" crap). I've always immediately dismissed anyone else's rebuttal. I have given a couple other egg nogs a try, and in my opinion, they were nowheres near as delish as Stewart's.

So you know what this means? Yeah, that's right: egg nog taste test!
We went shopping for egg nog in local supermarkets and picked up five of them: Stewart's Gold, Hannaford brand, Price Chopper brand, Hood, and Garelick. All were full-fat varieties -- and none were flavored.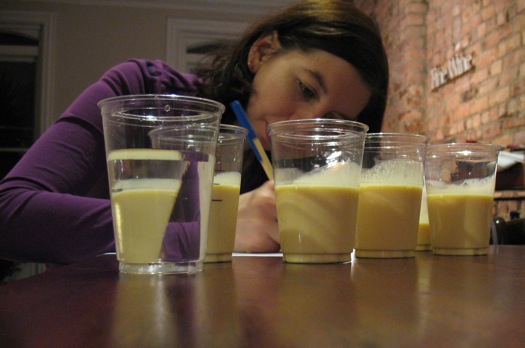 We assembled a trio of judges -- all egg nog fans -- to help us score the nogs:
+ The mysterious Albany Jane
+ Frank Nissen -- IT guy by day, egg nog nut by night
+ Jessica Pasko, AOA contributor extraordinaire
The judges scored the nogs on three qualities: viscosity, bouquet and flavor. They also ranked the nogs overall.
Here are how things stacked up:
A few comments from the judges:
1. Hannaford
Two of the three judges scored the Hannaford nog as their favorite. "Creamy, smooth [and] vanilla beany," wrote one judge. "Well-rounded" with "good texture" wrote another. And from the third judge, who didn't rank Hannaford #1: "Flavor reminds [me] of rice pudding."
2. Stewart's
Meagan's favorite fared well, garnering one of the three number 1 overall votes. "Excellent," wrote the judge who scored it #1. "Tangy [and] slightly sour," wrote one of the other judges.
3. Hood
This was a bit of surprise -- no one really expected a lot from this brand coming into the test. "Creamy but not too heavy," noted one judge. "A little chalky, but nice and nutmeg-y," wrote another.
4. Garelick
This brand just edged out Chopper brand for fourth place. "Horrid," exclaimed one judge of this nog. "Fake eggy" wrote another. "A little too mild," noted the third.
5. Price Chopper
This brand also got the "horrid" label from one of the judges. "Eh," wrote a second. "Pleh," wrote the third. On the bright side, Chopper brand did score the highest for bouquet. Unfortunately, most of us don't drink through our noses.
The Bottom Line
Our judges decided Hannaford had the best egg nog, with Stewart's a close second.
Hi there. Comments have been closed for this item. Still have something to say? Contact us.