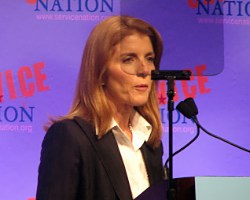 One of the criticisms about Caroline Kennedy's bid for Hillary Clinton's Senate seat has been that she doesn't have a record of votes or public statements on a number of issues for people to examine.
Well, that changed a bit over the weekend. In a weird arrangement, Kennedy's staff answered written questions from Politico and NYT. Her -- or their -- answers were relatively short -- and we've boiled them down even more.
These aren't all the questions and answers. Wording is paraphrased except where quoted.
Same-sex marriage
In favor of "full equality and marriage rights" for gays and lesbians. [Politico]

David Paterson's proposed 2009 state budget
Believes the budget "appropriately includes both revenue increases and budget cuts while still protecting the most vulnerable." [Politico]

Higher taxes in the state to help cover the budget gap
Punt. [NYT]

Going to war with Iraq
Says she opposed it from the beginning. [Politico]

Charter schools and vouchers
Supports charter schools and support teachers at charters being able to unionize. [Politico] Not in favor of vouchers. [NYT]

Using TARP funds for the auto bailout
In favor of it. [Politico]

Israel
Says she "strongly supports a safe and secure Israel." [Politico] Also, "an undivided Jerusalem must be the national capital of the State of Israel." And supports a two-state solution "so long as there is a true partner for peace in the Palestinians, and so long as Israel's security is assured" [NYT]

Local property tax cap in New York State
Punt. [NYT]

NAFTA
Says "Nafta has had unintended, negative consequences in some regions of New York." [NYT]

Parental-notification requirement for minors seeking an abortion
Against a requirement. [NYT]

Indian Point nuclear power plant
Supports efforts to close it. [NYT]

Earlier on AOA:
+ Sweet Senator Caroline?
+ Top Senator

photo: Flickr user David Berkowitz
Hi there. Comments have been closed for this item. Still have something to say? Contact us.