By Amy Brozio-Andrews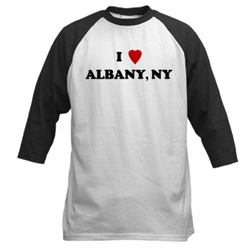 When you visit NYC, you can't throw a snow globe without hitting a Big Apple themed gift. Hats, shirts, mugs stickers, ties, postcards. But if you have friends or relatives visiting the Capital Region, have you noticed that it's nearly impossible to find the same kind of things with an Albany theme? It's the capital city, but can you find an "I heart The Egg" bumper sticker, or an "I got my tan in Albany" t-shirt? Noooooo.
Well, if you're just busting to show your A-Town pride you might find an outlet at CafePress.
The print-on-demand site has hundreds of Albany items. If "nippercity" shirts, bags and hats, complete with pictures of the Capital Region's most famous giant dog don't do it for you, then maybe a "WWTTQD?" (what would the tulip queen do?) shirt, mug or button is more your speed. Traditionalists can go for the "I heart Albany" tee.
Most designs are available on more than one kind of item; the availability is up to each individual CaféPress store owner.
So next time you're heading out of town, don't leave them guessing -- make sure you pack your "I'm kind of a big deal in Albany" t-shirt.
Hi there. Comments have been closed for this item. Still have something to say? Contact us.