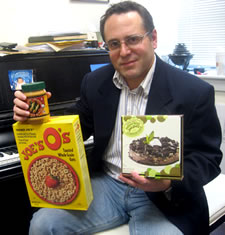 One of the best things about working on AOA this past year is that we've had the chance to meet a lot of interesting people. We'll be highlighting a handful of them between now and the start of 2009.
People in the Capital Region are passionate about their supermarkets. And maybe none more so than Bruce Roter.
Roter, a composer and professor at St. Rose, is the founder of We Want Trader Joe's in the Capital District, a sort of local fan club of the funky alternative supermarket chain. The group has organized events to sample TJ's products, field trips to one of the store's location in Central Massachusetts and publicity for their campaign.
But there seems to be more to this effort, too. Here's a clip from an interview with Roter over at CelinaBean this past year:

CB: I don't know if you are aware of this, but you sound so polished and political when you talk about this stuff. When I listen to you, until you bring up the Trader Joe's again, I think I'm doing an interview with somebody running for city council or something.

BR: It is interesting that you say that. I think there is a political dimension to this as well. This is a quality of life issue for this community. In many ways I do see Trader Joe's, not only as a grocery store, but as a symbol for the growth and improvement and diversity of this community. And there is no reason why anyone in this community shouldn't enjoy the things a store like Trader Joe's has to offer and shouldn't enjoy the price savings. I assure you this is not a yuppie cause that I am involved in. Their prices are far and away better than I've seen elsewhere. Everyone in this community should be able to benefit from that.

We ran into Bruce this past summer and got to talking about Trader Joe's and other stores the Capital Region doesn't currently have. The conversation eventually turned to Chipotle and we both agreed it'd be great to get one.
Then he said: "Maybe you should start a We Want Chipotle group..."
Items about Trader Joe's on AOA.
photo: CelinaBean
Hi there. Comments have been closed for this item. Still have something to say? Contact us.