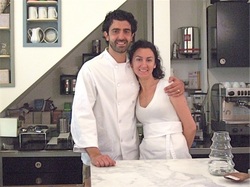 One of the best things about working on AOA this past year is that we've had the chance to meet a lot of interesting people. We'll be highlighting a handful of them between now and the start of 2009.
If AOA waistlines have been expanding this year, it may have something to do with the distance between our downtown office and Crisan. Some of our yummiest moments of 2008 were works of edible art by Ana Claudia Crisan Calabria.
Claudia, an artist and jewelry designer, and her husband Iggy, a musician, opened Crisan, their Lark Street bakery, early in the summer. Center Square residents immediately began lining up for $1 gelato and Romanian influenced pastries that look as beautiful as they taste. Puff pastries filled with feta cheese, sweet pastries shaped like doves, baked apples and pears, beautiful cakes, pies, tarts and our new favorite, drinking chocolate.
But opening a bakery-- a business based on extras -- in a recession, is a tricky thing. Still, Crisan is seldom empty and there are evenings when the place is positively packed.
"Things have gone much better than we've expected," Claudia tells us. " Center Square has revealed so many interesting, appreciative people that we've gotten to know so well.
Luckily, people find money for certain "extras" like desserts and pastries. We also try very hard to keep our prices reasonable so we might include as many people as possible."
When she isn't baking, Claudia is still creating. She's an expert in edible art and edible jewelry. She's lectured at the Smithsonian, been featured in British Vogue and is still writing papers and creating edible art and jewelry for shows worldwide. "There's a whole movement of artists who work in edible art," she says. "The idea is that there's more to jewelry than having it as a precious object. You wear a piece of jewelry, people admire it, there's a connection." When the jewelry is edible, she says the experience changes. "When you can eat a piece of the art off of the person, it becomes fun or erotic."
Claudia and Iggy are always experimenting in the bakery too. Even regular customers will find a little something new on almost every visit.
"We keep our customers on their toes by constantly introducing new desserts and challenging their taste buds. We have customers that come for one specific thing and then others that look for new flavors. The spinach and cheese and mushroom and cheese strudels were little experiments that turned into regulars. The seasons and holidays also help guide customers and the seasonal fruits we've been using from Indian Ladder Farms produced some of our best-selling products from the fall."

We're waiting to sample what they dream up next.
Hi there. Comments have been closed for this item. Still have something to say? Contact us.