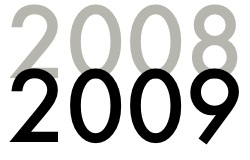 So, AOA Greg is going to be on this panel with a bunch of other media people this coming Thursday. But little did he know that appearing on the panel would involve... homework.
Homework! Maybe you can help.
The people organizing the event are looking for the panel to talk about the top three stories of 2008 -- and what the top three stories of 2009 will be.
We're guessing (hoping) you might have some thoughts on that topic. And we'd love to hear 'em. We'll totally give you credit on Thursday.
To get things started, here's what Greg sent along to the moderator this week...
(Questions from the moderator are in italics.)
I'd like to hear from each of you re what you thought the 3 top stories of 2008 were. I'm assuming Spitzer's dalliances and Obama's election will be among them, but would appreciate hearing your individual takes on those stories.
It's funny how long ago the whole Spitzer affair seems now. Obviously, it was a big story in its own right, but also in that it pushed David Paterson forward. He probably never would have become governor via the normal route, so it's interesting watching him in the job.
I don't think Obama was a huge story locally. About 20,000 fewer people turned out to vote this time around compared to four years ago. And Obama's vote total here just barely edged out that of Kerry from the last cycle. New York was probably always in the bag for Obama (or, really, any Democrat) and we were treated that way. We might want to play a little harder to get next time.
Added after the email: People certainly seemed interested yesterday. And the local Twitterati certainly had plenty to say.
Ditto for what you think will be the three top stories in 2009.
Keeping this confined to the local/regional:
-How the state deals with the budget gap and the consequences of that.
-The Albany mayoral election -- the city has real problems and people might be willing to make a change, but will a solid alternative candidate step forward? And if so, can that person beat the machine?
-Infrastructure. You name it, it's probably pretty old in this area. Chances are something's going to fail.
Added after the email: it'd be great to hear from people about non-political/government type stories. What about cultural or social topics?
I'd also like each of you to consider whether the changes in the media is itself a story for both 2008-2009. The impact of declining readership, viewership, and advertising revenue. The multiplicity of blogs, RSS feeds, cable channels, etc. We talked a bit about this last year and in previous years and things certainly haven't stayed static.
I think it is. If anything, the evolution of media is changing notions of what it means to be an authority. I think we're moving from an era in which there were only a few "voices" of authority into an era where there will be many. That probably won't be good for the people who have gotten accustomed to -- and profited from -- the old arrangement.
Say Something!
We'd really like you to take part in the conversation here at All Over Albany. But we do have a few rules here. Don't worry, they're easy. The first: be kind. The second: treat everyone else with the same respect you'd like to see in return. Cool? Great, post away. Comments are moderated so it might take a little while for your comment to show up. Thanks for being patient.