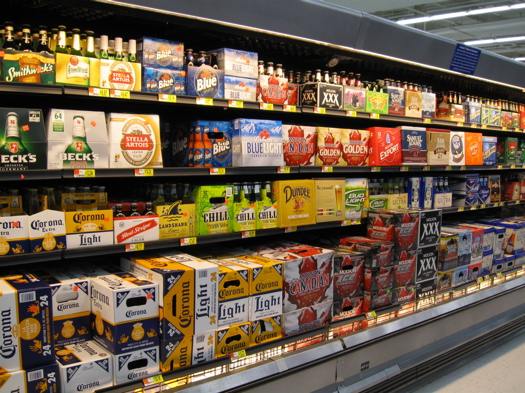 Maybe you're rooting for the Steelers. Maybe you're rooting for the Cardinals. Maybe you don't so much -- you know -- care. But you will care if there's beer at the Super Bowl party.
According to the folks at the Beer Institute (yeah, there is such a thing) 3.5 percent of beer sales come from Super Bowl weekend. So how will you get the best bang for your beer buck this weekend? AOA went beer shopping to help you out. (Yay, beer shopping.)

We priced 10 different beers at 12 different places*, from beverage centers to supermarkets, to help you figure out where to get the best deal on your favorite brew. The table at the top of this page lists the results (scroll up).
There wasn't one store that totally owned the lowest prices. But a few did stand out. Minogue's in Saratoga was the cheapest, followed by Oliver's in Albany and Excelsior in Saratoga. Here are all the stores ranked cheapest to most expensive based on the total price of the whole "basket" of beers:
Minogue's - 105.90
Oliver's - 108.98
Excelsior Beverage - 110.90
Savemore Discount Beverage - 113.20
Westmere Beverage - 116.24
Wal-Mart - 116.55
Glenville Beverage - 116.80
Hoosick St. Discount Beverage - 119.90
Price Chopper - 119.90
Waterford Beverage - 120.20
Hannaford - 122.90
Glenmont Discount Beverage - 125.00
Also interesting: there wasn't much price difference on some beers (e.g., Budweiser), but others were all over the place. Sam Adams is probably the best example. You can pick up a 12 pack for $9.99 at a few places -- but it's $16.99 at the Chopper.
We tried to account for a wide variety of tastes and price ranges. If you don't see your favorite, you're probably safe using something comparable as a guide, as most places seemed to have similar prices for different "levels" of beer.
The prices listed are for 12 pack bottles with one exception, Milwaukee's Best. "The Beast" only comes in cans. We should note that you can probably do even better if you're buying by the case, but out of concern for variety and, um, cirrhosis we opted for the 12 pack.
Remember, buy enough beer the first time, 'cuz once you start drinking nobody goes anywhere. Got it? Good. Now, please pass the guacamole.
* Stores: Minogue's in Saratoga, Excelsior Beverage in Saratoga, Westmere Beverage in Guilderland, Savemore Discount Beverage in Clifton Park, Glenmont Discount Beverage in Glenmont, Oliver's in Albany, Hoosick St Discount Beverage in Troy, Waterford Beverage in Waterford, Glenville Beverage in Glenville, Hannaford on Central in Albany, Price Chopper on Central in Albany, the Walmart on Washington Ave Ext.
Thanks to everyone who helped us compile the list of stores on Twitter.
The Bottom Line
Beer prices all over the place, but a few stores do stand out (Minogue's, Oliver's). Also, it seems that beverage centers tend to have lower prices than supermarkets.
Say Something!
We'd really like you to take part in the conversation here at All Over Albany. But we do have a few rules here. Don't worry, they're easy. The first: be kind. The second: treat everyone else with the same respect you'd like to see in return. Cool? Great, post away. Comments are moderated so it might take a little while for your comment to show up. Thanks for being patient.