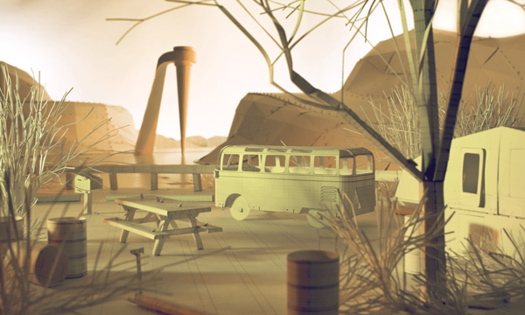 Last week we told you about artist Ken Ragsdale's Edible Albany exhibit at Crisan. The object of Ragsdale's art is to take pictures of his own mind.
And the result is pretty cool: recognizable images, created out of paper, that are only simple on the surface. The longer you look at them, the more you start thinking -- thinking about thinking and memory and reality.
Plus they're just fun to look at. There are more of them, plus more about Ken, after the jump.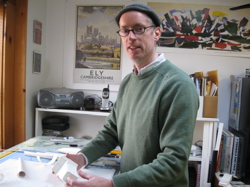 How do you create these pieces?
Everything I do is based on memory. I don't use photos at all. I just think of a scene or time or place, usually from my childhood, and start making drawings. Then I think about what will be in that scene - cars, trees - and I make schematic drawings of those. I do a template that works out the basic proportions of everything. Then I have to figure out how to build the things three dimensionally out of paper.
Everything is built out of one sheet of paper. It's all cut and folded or tabbed; nothing is glued or taped, it folds in on itself. I want everything to be impermanent. It's going to fall apart, its going to disintegrate, I can take it apart or I can move it around but it's never what it is. It's just a moment.
What do you want the work to do? What affect should it have on the viewer?
What I want to do is set up a tableau which is all about atmosphere and potentialities -- this could happen or might happen or something already did happen. But by just setting it up in a very still way it invites the viewer to have this dialogue with the image and say "Oh what is going on?" I don't put figures in because i feel that's too specific. You see people in a situation and think, "they must be doing something I can relate to," and it focuses the viewer in a way that I don't want.
I like the fact that it comes out of drawing. I'm waking it up. Sort of like Dr. Frankenstein. It starts to breathe and become something other than what it was. I want everything to show the idea of how memory functions. That it's constantly sort of in flux. And what you think you know is changing constantly based on experiences. It's that process of alteration that I really like.
There's the memory, then the drawing, then the schematics, then the three dimensional scene and then the photo. One step builds to another step builds to another step and it changes the memory and it becomes something -- at which point then I can take a photograph of it. So what's happening really is I'm taking a photograph of my mind. You're seeing what's in there , but also how it's working.
There's a sense of eeriness in the work. Is that intentional?
Yes. It's a sense of anticipation. I think it adds to the atmosphere that people are slightly uncomfortable. People say "hey, pretty picture. I like those colors. I recognize those things that 's a nice -hey -oh, wait a minute. What really is going on? Now I'm not really sure. Now I'm starting to feel uncomfortable. Now I don't really know how I feel about it." Then you start to get a grip on how it's constructed and you start to understand the process and with luck it will go back to the viewer and they'll reassess. Cuz that's the job of an artist, right? Making people reassess what they're looking at, what they think they know and what their role in it is.
You've got a piece up at Albany Airport. Some people might not want their art displayed at an airport. How do you feel about having a piece there?
I think it's great. The piece was designed specifically for the airport, which is fabulous, The gallery and everything she (gallery director, Sharon Bates) does there is fantastic. My piece is about travel and about the uncertainty and these false assumptions everybody has about traveling; I'm gonna fly here and do this and this is going to happen, it 's going to be like this when I get there. And whether it's good or bad, it almost never is what you expect. Things change.
And the idea of having a piece right on the concourse --people come off the plane and get on the plane and they're walking past this thing and it forces you to stop and
reassess. And think about it -- I mean millions of people will walk past that thing (laughs) it's great!
What would you like to see in Albany? What are we missing?
Better public transportation-- that would be nice. I'm a fan of public transportation when it works. Also, more restaurants -- wider variety. It's happening. In the 7 years we've been here it's getting better. What I'm still waiting for is a taco truck. I used to live out west near the Washington/Oregon border and they used to have these taco trucks - man, I would love to have a real taco off of a truck!
___
You can checkout Ken's work from March 6th-April 12th ast part of a group show (the 31st Annual Photography Regional) at Opalka Gallery at Sage College of Albany.
He's also giving a lecture as part of a series on the connection between art and science on March 11th at 5 p.m., in the NanoFab South (NFS) Building of the CNSE. It's at 255 Fuller Road.
This interview has been edited and condensed.
Here's a little more of Ken's art: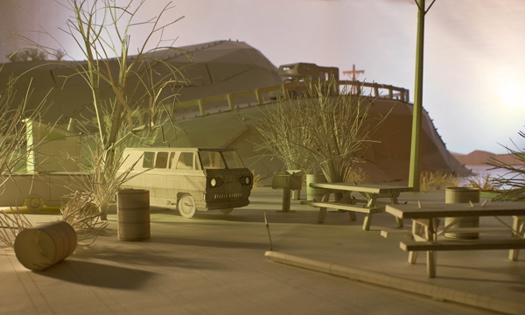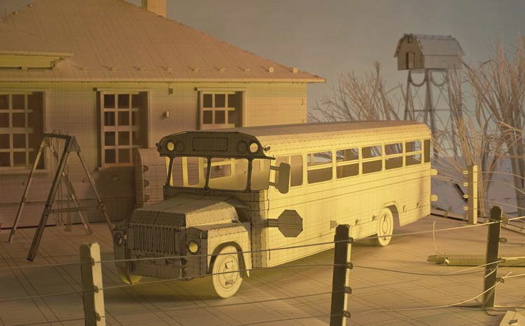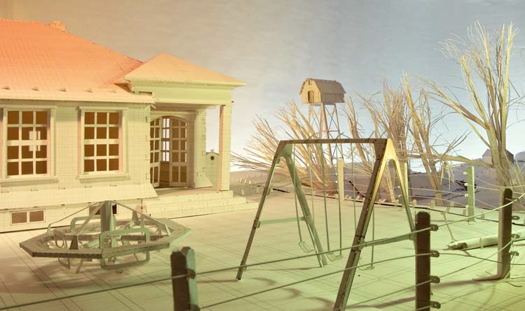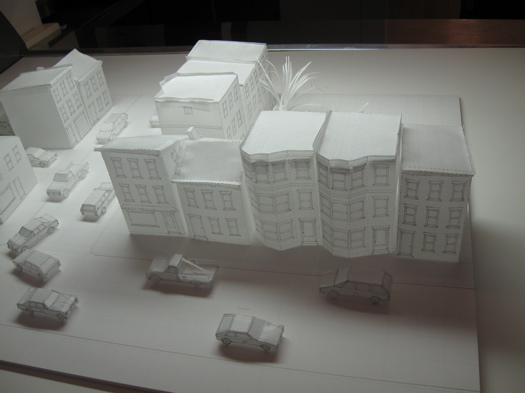 Say Something!
We'd really like you to take part in the conversation here at All Over Albany. But we do have a few rules here. Don't worry, they're easy. The first: be kind. The second: treat everyone else with the same respect you'd like to see in return. Cool? Great, post away. Comments are moderated so it might take a little while for your comment to show up. Thanks for being patient.