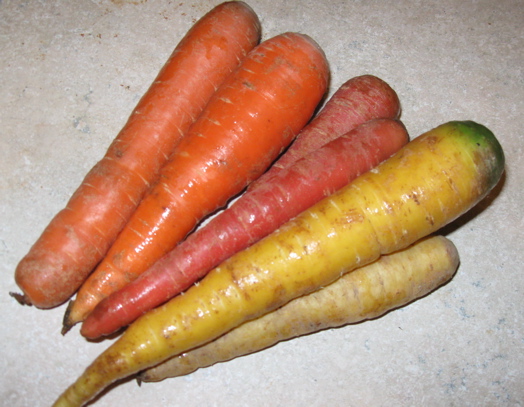 By Jessica Pasko
OK, yes, it's only March but it's not too early to start thinking about signing up for a CSA (community supported agriculture) farm share. In fact, now's the time the slots are filling up fast.
If you're not familiar with the CSA model, here's how it works: individuals or families sign up for a farm share through one of the many participating farms in the area. Then each week during the growing season, you'll be able to pick up a "share" of fresh produce, depending on what's in season.
Some farms focus solely on vegetables, while others include fruit, baked goods, eggs and even meat, depending on what type of program you're looking for. It's a great way to get lots of wonderful healthy food and support an area farm at the same time.
But how do you know which CSAs have what, how much they cost, and where to find them? The Web site localharvest.org has a thorough listing of CSA farms searchable by zip code and provides some of the basic details of what each farm provides.
Lucky for us, there are many CSA farms in the area, so AOA's put together a mini guide to several of the local CSAs to help you decide which share program would work best for you.
One note from personal experience: While most full shares are said to be enough for a family of two children and two adults, I've found that to be a bit subjective. My mother has subscribed to a CSA for several years and the family eats a ton of vegetables. Sometimes she's found even the shares aren't enough. You might have to supplement a little. Oh, and feel free to share with us your experiences with CSAs!
Here's the list. You can learn more about the individual CSAs at localharvest.org
Jus-Lin Farms, Duanesburg. juslinfarms.com
Pick-up locations: To be determined locations in Albany and Duanesburg
Cost: $250 for a ½ share, which is recommended for 2-4 people and $350 for a full share.
The low-down: You get both fruits and veggies from this farm, as well as herbs. Shareholders are offered the advantage of ordering extra produce when available on a week-to-week basis depending on what's needed. Products include sweet corn, salad greens, melons, pumpkins, potatoes, tomatoes anf more.
Contact: Fred Dykeman, 280-8904 or fndjr33@gmail.com

Eight-Mile Creek Farm, Westerlo
Pick-up locations: Community United Methodist Church in Slingerlands on Tuesday evenings or the farm itself on Saturday mornings and Monday evenings.
The low-down: Eight Mile Creek grows a large variety of vegetables, fruits and herbs _ over 175 varieties of veggies in fact. What makes this CSA a little different is that add-ons are available, including weekly or biweekly egg pickup. You can also add on cut flowers or cuts of beef.
Cost: $495 for a 19-week season.
Contact: Pamela McSweeney, 966-5468.
Green Spiral Herbs,near Middleburgh, greenspiralherbs.com
What they offer: This CSA focuses solely on herbs and offers a culinary herb CSA or an herbal product one.
The lowdown: With the culinary herb share, you get fresh herbs like French tarragon, basil, chamomile and numerous others for 10 weeks, from June 27 to August 29.The herbal product share includes teas, lip balms, homemade salves and other similar products. Those products are picked up on a monthly basis for a six-month share.
Cost: $200 for the cooking herbs share and $240 for the herbal products
Pickup locations: Saturday morning pickups are done at the farm in Huntersland, the Honest Weight Coop, the Harmony House Marketplace in Cohoes and Crossroads Gallery in Duanesburg.
Contact: Betty Pillsbury, bpills@midtel.net or 518-827-8730.

Denison Farm, Schaigticoke, Denisonfarm.com
Pick-up locations: the farm, Albany Friends Meeting House Wednesday evenings, as well as locations in Clifton Park, Delmar, Niskayuna, Round Lake, Saratoga and Troy.
Cost: $450 for the standard vegetable share. A 15-week fruit share including cherries, blueberries, peaches and apples is $150 and a 22-week egg share is $72.
The low-down: Fruit and egg shares are also available in addition to the vegetable shares. The weekly share will average about 8 items with more in the peak of the season and less on either end. A share is said to be enough veggies for about two adults and two children. Shares last year included baby lettuces, sugar snap peas, strawberries, cantaloupe, garlic scapes, celeriac and beets. The farm also grows some more unique items such as fennel, edamame and tomatillos.
Contact: Justine and Brian Denison, 518-664-2510

Hand in Hand Farm, Colonie
Pickup locations: from the farm on Tuesday afternoon/evenings and on Saturdays
Cost: $450 for a full-share and $300 for a half-share, with work hours required.
The low-down: At Hand in Hand, the only way members can receive a share is if they complete a set number of hours' work each month over the course of the share season, bringing people directly into the farm to help their food grow. This farm may be one of the only CSAs in the area that grows 100 percent heirloom vegetables, which means, according to the farm's Brian Bender, that none of the seeds are genetically modified. He says they're kind of like "the AKC of vegetables."
Contact: Brian Bender, bbender@nycap.rr.com

Red Oak Farm, Stuyvesant redoakfarmny.com
Pickup locations: at the farm on Tuesday and Friday evenings or at the St. James farmers' market on Delaware Ave in Albany on Tuesday evenings.
Cost: $410
The low-down: What makes this different than most other CSAs is that members get to pick out what they want each week. They'll receive an e-mail beforehand with what's available and then they get to pick out six or seven items. For those who don't respond, there's a standard default share. In addition to vegetables, there's also teas, fruits and herbal products available. You can also add on an additional egg share.
Contact: Taylor Tribble, 518-799-2052.

Roxbury Farm, Kinderhook, roxburyfarm.com
Pickup locations: Unfortunately, the Albany, Troy, Delmar and Glenville locations are all full for the season but there's still shares left for the Schenectady area.
Cost: $506 for 25 weeks of vegetables; $70 for 22 weeks of fruit.
The low-down: A weekly share size should include about 10 to 17 pounds of produce, with 7 to 12 varieties of vegetables and herbs. No work hours are required, but members are invited to come to the monthly workdays on the farm where they'll be able to harvest some of the garlic the farm raises. A 20-week fruit share is also offered starting in July and includes peaches, apples, nectarines and cherries. Lamb, pork, turkey and beef is offered as a separate purchase to CSA members.
Contact info: 758-8558
Kilpatrick Family Farm, Middle Granville kilpatrickfamilyfarm.com
Pick-up locations: Monday evenings at the Queensbury farmers market, Fridays and Saturdays at the farm, Saturday mornings at Saratoga Farmers Market and tentative locations in Glens Falls and Troy.
Cost: A full season share runs 24 weeks and costs $500, while a 20-week share that begins in June costs$425. There's also a fall share from late October to December for $275. Microshares, which are a little smaller, are also available. A full season micro share costs $315 while the regular micro share is $260.
The low-down: You'll get vegetables, herbs, melons and other small fruits. Crops include carrots, beets and other "normal veggies" but also things like artichokes, daikon and kohlrabi.
Contact: 642-4713

Patroon Land Farm, Voorheesville, www.charityadvantage.com
Pick-up locations: Regional Food Bank of the Northeast NY at 965 Albany-Shaker Road or at the farm on Thursdays from 3:30 to 6:30 p.m.
Cost: $400 a shareholders
The low-down: What's cool about this farm is that it's run for the regional farm bank, so a large portion of the harvest goes to the local food pantries. CSA shares help fund this program as well as providing delicious, nutritious veggies. Oh, and the farm serves as a sustainable, educational program.
Contact: Mark Weinheimer, 339-5726; Linda Comstock, 786-3691
Say Something!
We'd really like you to take part in the conversation here at All Over Albany. But we do have a few rules here. Don't worry, they're easy. The first: be kind. The second: treat everyone else with the same respect you'd like to see in return. Cool? Great, post away. Comments are moderated so it might take a little while for your comment to show up. Thanks for being patient.