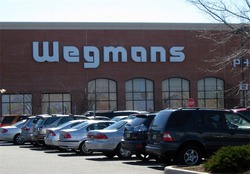 Consumer Reports has released supermarket rankings based on a survey of thousands of its readers (you need to be a CR subscriber to see the whole list). And the results are going to cause people in the Capital Region with already-established supermarket envy turn even a few more shades green.
(Paging Bruce Roter!)
The top supermarket in the survey: Wegmans
The #2 supermarket: Trader Joe's.
Both Hannaford and Price Chopper did pretty well for themselves. Hannaford ranked #21 and Price Chopper #27, though they both had essentially the same score.
Wegmans claimed the top spot with high marks for service, perishables and cleanliness -- which apparently contribute to a highly "satisfying shopping experience." TJ's scored on service and price.
Whole Foods, which some commenters have mentioned interest in previously, ranked #8 -- it got seriously dinged for price (no surprise from a place with the nickname "Whole Paycheck").
One other interesting ranking: Aldi -- which is owned by the same German company that owns Trader Joe's -- ranked #14, largely for its low prices. We have a handful of Aldis here in the Capital Region. When we checked their prices last year we found them to be even cheaper than Walmart.
Oh, yeah, speaking of Walmart -- it ranked #56, fourth from the bottom. CR readers dissed its service, perishables and cleanliness -- but gave it high marks for price. Based on our research, we'd have to agree.
Earlier on AOA:
+ Wegmans and Price Chopper: the real deal
+ AOA items about Trader Joe's
+ Supermarket Showdown II
+ Which supermarket has the best store brand prices
photo: Flickr user chrstine592
Hi there. Comments have been closed for this item. Still have something to say? Contact us.