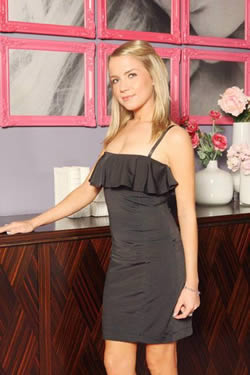 After last week's post about Saratoga Springs native Kaitlin Cassidy and her appearance on the MTV reality show Paris Hilton's My New BFF, people had a lot to say. And many of the comments were, uh, kind of snippy.
We figured it was only fair for Kaitlin to have a chance to respond, so we got in touch with her for an interview. And we gotta say: you'll probably think about her differently after hearing her answers.
This interview was conducted via email.
You grew up in Saratoga, went to SUNY Oneonta. How'd you end up in LA?
I got home from college in the summer of 2007 with plans of working at my job for Saratoga Dance Etc/Bunheads Dance Accessories. I had come home with a Bachelors Degree in Graphic Design and initially had no plans of leaving Saratoga. I noticed a bunch of my friends had plans to move out of the area and then I met my boyfriend Matt Drag.
From Waterford, Matt had already lived out in California for a few years, and was on a year long break at home before he returned to LA that fall. We started dating and got serious very quickly. When it came time for him to leave, he left me with the option of coming with him. At first I declined, and after I thought about it for awhile, I decided I had to do it.
It was a sudden and adventurous decision. I moved out in October 2007. I didn't come out here to be an actress like every one else does. I actually had a job at Enterprise Rent-A-Car when I first got out here! Now I'm a Personal Assistant/Nanny for actress EG Daily. The family I work for is great and kind of like my "Cali-Family."
So, how/why did you get hooked up with this Paris Hilton show?
The way I decided to audition for the show was kind of a joke actually. I had seen that they were casting for the show through casting friends I know on Facebook. I sort of made a joke about auditioning to one of them. Next thing you know I'm a mile away from my apartment trying out for the show.
A few months, and 25,000 submissions later, I got the call. I had done un-airing pilot work for the same casting company before. I talked to my boss about doing the show, and she was cool with it so I went through with it.
What's your real best friend think about all this?
My real best friend(s) think it's funny. My whole sorority, my dance company from college, my highschool, all of my friends from home and out here. They are all watching, all laughing and calling me right after.
It's weird and funny to see someone you've known for years on TV. I would definitely watch if some one I knew was on the show.
And how about your parents?
My parents think it's funny. I'm 24 years old, I'm a big girl now.
The thing is you have to take it all lightly. I know a lot of people think its "silly," but they still watch it! My Mom, Dad and Stepparents miss me so they like to see my face.
I was sent a comment on a blog suggesting my family and friends "adjust their values" if they thought of this as an achievement. Maybe they should adjust their priorities if the show bugs them that much.
So, what was it like shooting the show? What were the other contestants like?
It's really neat to see a project like this all come together. The process is a lot different than you would think. These people do shows like this all the time. Even though reality TV can seem relatively simple, its a pretty big production. Ironically, I'm really drawn to the behind the scenes aspect of the process.
I made a lot of friends actually. Of course, as things arise, and as the drama unfolds, some things can change. We are pretty much all friends. I have learned that you have to accept people for who they are. No one is going to be your perfect match as a friend, and the quicker you accept that, the easier the friendship will be. Everyone on the show came from very diverse backgrounds and ways of life. That's the recipe for great TV.
We have this theory that Paris Hilton's not actually a real person -- she's an actor who's part of some kind of ongoing performance art piece? How close -- or far off -- are we?
No, she's real. But every one comes off a little different on and off camera, including myself. She's very sweet in person, I promise. Absolutely gorgeous as well.
What do you ultimately want to get out of being on this show?
Although it was automatically assumed, I never said I wanted to be an actress. I believe everything happens for a reason, and if this opportunity leads me to another then so be it.
If not, that's cool, too. I will still come home twice a year just as excited and proud to be there. The least I can hope for is getting home a little more often!!
As we saw on AOA last week, people can be kind of (OK, a lot) snarky when it comes to this kind of stuff. How does make it you feel when people accuse you of being shallow for being on one of these shows?
Can I just say that I think people took me going on this show ENTIRELY the wrong way, not to mention WAY too seriously. (I'm addressing the blogs, of course.)
I live in Hollywood, this is what people do. The biggest industry here is Entertainment. If I am offered an opportunity I am not going to pass it up. My friends and family know me and they know that I'm not shallow. *If people still want to take reality TV this seriously after all these years, that's their problem.*
It has been quite entertaining to read along, but a huge waste of time. I think people are taking my being on the show really serious, and I don't think it's that serious. You know what's contradictory? Complaining about a show on a blog and then watching it.
You said on your MySpace blog that you love Saratoga. What's your favorite thing about the town?
The thing I miss the most about home is that all around hometown feel. The atmosphere in Saratoga is irreplaceable.
I miss the simplest aspects of Saratoga. The air is fresh and smells like grass and flowers. The driving and parking is a piece of cake. People are family oriented. I love the local businesses, boutiques, and eateries. I miss sitting at my dinner table, or on my deck barbecuing with my parents and siblings.
Going home about twice a year keeps me sane. I consider myself very fortunate to have grown up in Saratoga Springs. It's a great asset to New York State. Although I miss it horribly at times, California is great, too. LA is a great place to be at my age.
This interview was lightly edited.
photo: MTV
Hi there. Comments have been closed for this item. Still have something to say? Contact us.