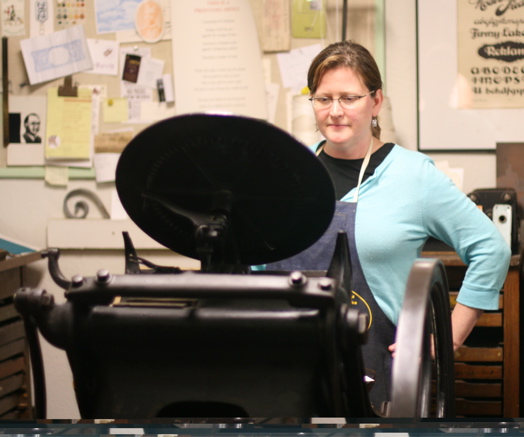 Monday through Friday she works with pixels and laser printers, designing computer
graphics for advertising and public relations at EMA in Albany. But on Saturdays Lori Hansen abandons keyboard, mouse and laser printer for ink, wood and steel.
A couple of years ago Hansen found a vintage 1880's letter press on Ebay. Fifteen hundred dollars, five guys, a hydraulic lift, an elaborate system of pulleys and a big truck later it was hers.
She gave us a tour of her vintage print shop, tucked away in a corner of the Historic Albany Architectural Parts Warehouse, where she prints fun, quirky, handmade cards on beautiful paper.
A closer look at Lori and the press, including photos and video of how it works -- after the jump.
You're a graphic designer -- you can create pretty much any design and style you want very easily with a computer and laser printer. So why the letterpress?
It's really satisfying to print this way. It's like knitting--it's that very direct instant gratification. I enjoy working with the computer, but this is just different. You kind of feel like you're going back in time a little bit. I really love it. It just sounds so soothing-- the way it clanks. And I love paper. It's like fabric -- all the different types and the way they feel. (Laughs) I married a paper guy (artist Ken Ragsdale).
Also, you have to be very focused and aware of what's going on while you're using it because it's really a pretty dangerous machine. You could pretty easily smash your fingers in it like you could with any mechanical object, so you just always have to be aware. But you get in the zone and you can just kind of forget all of your troubles.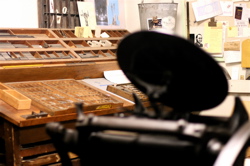 I have a press that's similar to this in Portland, where I used to live, and I missed it. When I bought this one, I didn't even know what I intended to do with it. Now I'm making a lot of cards. But at first it was like buying yarn you know? I just missed the smell of the ink and the sound and the time you put into it.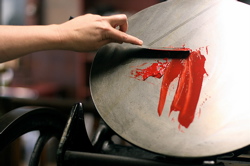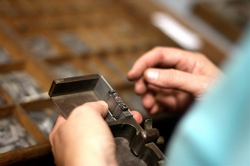 You have another press in Portland?
Yes. Right now a friend is using it in her shop. She has about six presses and does it full time. Letterpress is making kind of a resurgence. Not in Albany, but in some other places. It's become kind of cool. And Portland is kind of the Mecca for letterpresses. It's also big in Brooklyn.
Why is it catching on ?
It may be because it's gotten a little bit rare and harder to find this stuff. Maybe people are starting to appreciate it now that they're realizing that tons and tons and tons of this old type was just melted down. I mean it used to be really available in the 60s. Newspapers were still printing with linotype slugs until 1978 I think. So it was always around and then suddenly people got rid of it all and then people started realizing "wow, we've got to keep some of this around."
Also the advent of really particular brides helped. I hate to credit Martha Stewart with what I do, but she did sort of encourage people to use letterpress.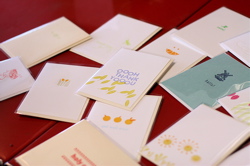 Besides focus, what does it take to operate a letter press?
You have to be kind of an organized dislexic. You have to be able to read upside down and backwards. There are so many little pieces and you have to have all of the little bits-- all of the letters the different sizes, the images. You can have a letter in ten point but 12 point doesn't look much different so you have to make sure you have everything well organized. You need to be a little detail oriented. The gentleman I bought the press from had not put a lot away. I spent probably 8 months sorting things out and getting them in place before i could really print.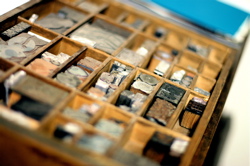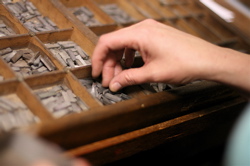 It's a really detail oriented process I mean you can spend five hours setting a business card and then one letter falls out and the whole thing falls apart and you have to start it again.
The work that comes from the press has a very vintage feel. What's so intriguing about vintage?
I don't know i think it's really classic. And it has a used kind of homey comfort, you know? It's not going to smell like new carpet. I like that it has a history to it.. you look a this cut with a guy with a platter of meat and you just wonder what was it used for? I've always been the type of person.

More fun lettterpress facts from Lori:
+ The expression "out of sorts" dates back to the letterpress. The little letters are sometimes called sorts. If you're "out of sorts," you can't accomplish much.
+"Mind your Ps and Qs" also come from the letterpress. The letters on the sorts are backward, so you have to stop and think before you put up a P or a Q because they look similar. The same goes for b and d, but Ps and Qs sounds better.
+At least one politician in the day was known as "The I man" because he used the word "I" so much they didn't have enough I's to quote him.
Eventually Lori says she'll start a shop on etsy. Until then you can find some of her cards at Elissa Halloran and at the Historic Albany warehouse. If you come by on a Saturday, she may even demonstrate -- but for now, here's a quick look at how it works.
This interview was edited and condensed.
Above Photos: Kim Dunham

A few more of Lori's cards: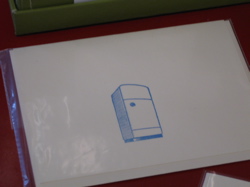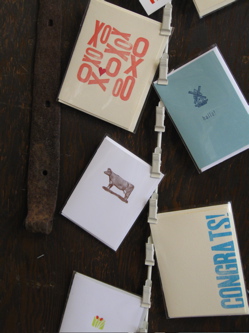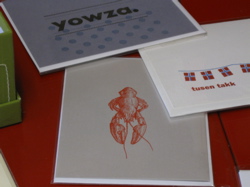 Find It
Historic Albany Architectural Parts Warehouse
89 Lexington Avenue
Albany, NY 12206
Say Something!
We'd really like you to take part in the conversation here at All Over Albany. But we do have a few rules here. Don't worry, they're easy. The first: be kind. The second: treat everyone else with the same respect you'd like to see in return. Cool? Great, post away. Comments are moderated so it might take a little while for your comment to show up. Thanks for being patient.