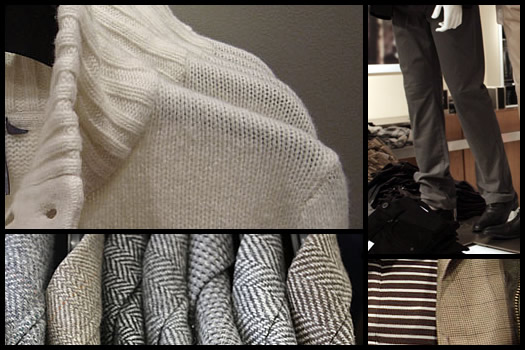 By Kaitlin Resler
Yesterday we looked at the five (and a half) autumn essentials for women. But what about the guys?
Nope, we didn't leave you out, boys. Here are five essential items to get you through the season.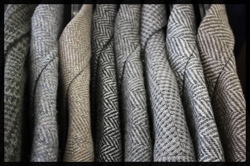 Tweed blazers
Yes, for men as well. To be honest, we're kind of stealing from the boys in the women's section anyway.
Guys can have the best luck finding piles of tweed (with elbow patches!) at Salvation Army (I like the one on Central and the Scotia-Glenville branch, but the blazer selection at For Pete's Sake is nothing to turn up your nose at).They have RACKS with tons. You can get fantastic ones, with arm patches and slightly different colors, sometimes custom-made for someone who also happens to take the same size as you.
And girls, you can steal his tweed blazer, roll up the sleeves and have that slouchy, ever-so-trendy boyfriend look that's so cozy and effortless right now. It makes really prim dresses not so prim, works flawlessly for men over patterned shirts or character-ridden tees, and creates an everlasting bond between the tweed-wearing couple.
Plus girls like boys who wear tweed and read books. They're like Welsh poets, but without the dipsomaniac tendencies. (Pictured: Salvation Army, 6.99$-19.99$)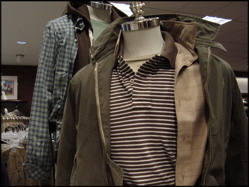 Patterned Shirts & Mixing Patterns
Every store in the mall is littered with men's shirts sporting teeny tiny patterns (okay, sometimes they're a bit larger, but still, a lot of them are teeny). Little plaids, microscopic ginghams, and skinny stripes are pretty much everywhere. Which is nice, for a little textile dimension. The trick though, is in the wearing. Ignore every rule you've ever heard about pattern mixing. Style rules in general are kind of, well, stupid. Just wear it all at once.
Most of these patterns are being offered in fairly neutral colors, so that often the pattern isn't even noticed unless one is alarming close to the garment, so there is very little room for something so clashing it induces a migraine. Most of the patterns are nice with stripes, or with an equally patterned tie if you're feeling really adventurous. (Pictured: Macy's)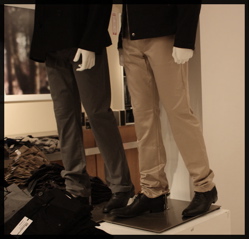 The Charcoal Pant
It's essential not only for fall, but for every season invented, ever. Express has nice ones, as far as reasonably affordable and in a nice slim fit (which I know a lot of guys are vehemently opposed to, but it's better, and also quite in at the moment). Vintage is good, but it's hard to get a nice fit, and since many men tend to wear their clothes until they are no longer socially acceptable, it's hard to find some that are also in nice condition.
Grey is a good transition color, especially in those darker charcoal shades--both for summer into fall and into spring. It's dimensional, it's not khaki, and it's not black. It makes colors pop, and looks neato against all kinds of backdrops. Plus, what I said earlier about ignoring all those silly rules apply exponentially to grey: wear it with brown, black, or navy. Seriously. (Pictured: Express Producer Pant, 98$)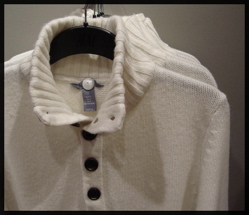 The Cowl-Neck/Buttoned Neck Sweater
We love cardigans to their little woolen bits. That said, for fall there is another image that conjures up weekend in Main, the mountains, or some strange English countryside. A nice chunky sweater with a proper cowl neck does the trick.
Rather than leave non-button-up sweaters in the usual crew or v-neck territory, this fall sweaters are getting statement buttons up a slouchy almost-turtleneck, or just a regular cowl neck. What a difference this makes! (You see, it is so exciting that one must use a '!' to properly understand) It's nice thrown over button-up shirts for a walk to work, or with jeans and a tee for chilly weekends eating your weight in cider donuts. (H&M, $49.99)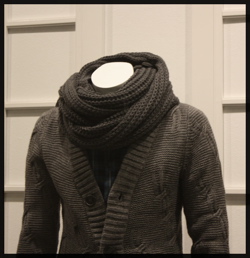 The Gigantic Scarf
Scarves are difficult for men. Not just ones that are necessary for warmth, but scarves that actually add an element of graphic interest without drawing attention to itself (not that that's always a bad thing, but subtlety is an art).
Thankfully, we shall not suffer a drought this year of scarves that promise to keep you snug and be fantastically awesome in terms of looks. Drawing on the cowl-necks of sweaters, over-sized knit scarves are a great addition to a sweater (be it a cardigan or regular pull-over) or almost-jacket for cooler but not quite winter-coat days, and can be piled on over said coat when it snows and is exceptionally windy.
Plus, it's hard to get wrong. The over-sized knit makes these scarves easy-as-pie to toss on, and in neutral colors like gray and oatmeal (this fall is certainly about the food descriptors) the size doesn't seem comical, but rather, sartorial. (Pictured: H&M, price unknown, it was lurking in the window)
Kaitlin chronicles her exquisite personal style at All This Happiness.
Say Something!
We'd really like you to take part in the conversation here at All Over Albany. But we do have a few rules here. Don't worry, they're easy. The first: be kind. The second: treat everyone else with the same respect you'd like to see in return. Cool? Great, post away. Comments are moderated so it might take a little while for your comment to show up. Thanks for being patient.