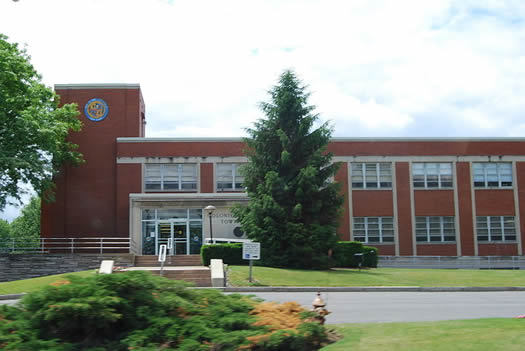 After we posted Monday about Colonie being named the "safest" city in the country in an annual crime ranking, Jackers pointed out in the comments:
Colonie is not a city. There's a town, and a village, but no city.
He is, of course, correct. We would argue it doesn't make much difference in this context. The list ranks areas of local jurisdiction with populations larger than 75,000 -- it doesn't really matter what you call them (whether it makes sense to rank municipalities in this way is a whole other, worthwhile discussion). But substituting "municipality" for "city" would make the sentence more accurate.
This got us wondering about what exactly differentiates a city from a town in New York State. So we looked it up.
The state actually has a book about all this stuff. It's called -- surprise -- The Local Government Handbook. It's published by the NY Department of State. We pulled all the info for this post out of that publication.
First, the basics: counties, cities, towns and villages are "general purpose public corporations" that have "broad legislative powers as well as the power to tax and incur debt." New York State law requires that these entities have legislative bodies elected by the people in those municipalities.
The very short story
OK, here are the (very simplified) characteristics of cities, towns and villages:
Cities
+ No minimum size or population
+ Not in a town
+ Charter says it's a city
+ Has a mayor (usually)
Towns
+ Come in all sizes and populations
+ Everything that's not a city or Indian nation land
+ Has a supervisor instead of a mayor. Supervisors aren't really executives -- they're the presiding officers of the town boards.
+ Can establish localized taxing districts inside them to provide fire, sewage and other services.
Villages
+ Small (well, they start that way)
+ Part of towns
The somewhat longer version
Cities
There's no state law that sets a minimum size (physical or population) for a city. In fact, what mostly distinguishes a city from a village is that a) it's not in a town and b) its charter says it's a city.
The state legislature can incorporate any size municipality into a city -- though, as The Local Government Handbook notes, this doesn't happen "without clear evidence from a local community that its people desire incorporation."
Towns
Towns are pretty much everything that's not a city or Indian nation land. The LGH notes that town government in New York State has roots that stretch all the back to Dutch rule. And for a while they were considered more a form of municipal negative space than actual municipalities. They didn't get official "home rule" powers until 1964 and weren't really on footing more or less equal with cities until 1976.
Consequently, towns come in all sorts of populations and areas. The Town of Hempstead on Long Island has more than 750k people and the Town of Redhouse in Cattaraugus County has... 37 people. The Town of Webb in Herkimer County covers 451.2 square miles (bigger than many counties) and the Town of Green Island covers just 0.7 square miles.
There are different types of towns -- "first class," "second class," "suburban" -- but apparently the differences between the classes have largely dissolved.
The big difference between cities and towns is how leadership is organized. Cities have mayors (in most cases). Towns do not. Instead, they have supervisors, who are the presiding officers on the town boards.
Towns also have the ability to set up taxing districts inside them for fire, sewage and other services. These districts provide flexibility in meeting localized needs within the town.
Villages
The super short story on villages: they're small and they're part of towns.
All of these designations come with all sorts of exceptions and qualifications. This is New York, after all -- you knew it wasn't going to be simple.
photo: UpstateNYer / Wikipedia
The Bottom Line
The grossly simplified version: cities and towns differ on how their leaderships are organized and some aspects of how they organize tax collection. The designations don't mean anything with regard to population or area.
Say Something!
We'd really like you to take part in the conversation here at All Over Albany. But we do have a few rules here. Don't worry, they're easy. The first: be kind. The second: treat everyone else with the same respect you'd like to see in return. Cool? Great, post away. Comments are moderated so it might take a little while for your comment to show up. Thanks for being patient.