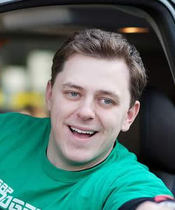 One of the best things about working on AOA is that we've get the chance to meet a lot of interesting people. We'll be highlighting a handful of them between now and the start of 2010.
One of the most interesting groups to pop up in the Capital Region over the last few years is the Albany Society for the Advancement of Philanthropy. And Jasen VonGuinness is its founder.
ASAP describes itself as "a non-profit organization with the express purpose of encouraging others to do well by their fellow man." It's the org behind events such as Albany Dodgeball, Meatfest and, most notably, the Santa Speedo Sprint. This year's sprint raised more than $13,000 for the Albany Damien Center. (Jess wrote about ASAP last January.)
Jasen said something to us in an email earlier this year that stuck with us: "Overall, I think I'm just sick of all the 'I hate Albany,' 'this town sucks' comments. So I'm trying to do my part to keep it fun."
We emailed JVG a few questions last week and he sent back answers:
What brought you to Albany?
Born and raised next to a tractor dealership in Kinderhook, NY. Ichabod Crane to an anthropology degree from UAlbany, 2000. From there I traveled around the Northeast recruiting staff for Abercrombie and Fitch (ughh).
I've been in the real estate world for about 8 years now, and have been the broker/owner of my own firm greenmark INC for about six. We've got four agents now and a cozy little office up on Lark St.
Aside from traditional brokerage, I've rehabilitated 11 properties of my own. I take loads of pride in being able to buy vacant properties in depressed neighborhoods and bring them back to their original quality, all while increasing the quality of living for the tenants in that area. I'm even more proud of the fact that when I walk thru the LNO (Arbor Hill gang language for the corners of Lark and Orange... you learn these things from working there so much), I'm greeted by old tenants that smile and want to catch up. I feel it's a rarity and departure from how landlords are perceived.
When I ran these rehab projects I always hired unemployed people from the immediate area. I feel very strongly that if I had the people living around my projects working on them, the word would spread as to what I was doing and it would help foster an increased pride in ownership of those areas, and it did. It was also a great way to teach new skills and increase the confidence of these folks. Alas, I've sold almost all my properties to landlords without the same ideals, my years of work dissipated in a few short months of absentee landlord ownership... sad.
Aside from ASAP, I travel and compete with the Albany Irish Rowing Club, active AOH member and I also travel and compete in Scottish Games as well as strongman competitions.
What's the story with the dodgeball?
I started Albany Dodgeball to supplement [ASAP's] scholarship fund. It's been wildly successful and something I'm very proud of.
We're even hoping to put a pro team together to play in Vegas next summer. We're also teaming up with Rob Immel of Hometown Dodgeball in Clifton Park to break the Guinness record for longest game of dodgeball ever played. We're shooting for 30 hours.
What's up for 2010?
We just elected our new board of directors and we've some pretty lofty goals for 2010. We're very content with the amount of events we have, however we can still grow the size of our events and the impact they have. We also have some recruiting goals for 2010. It's no secret that if we surround ourselves with more talented like-minded people we can become even aweseomer.
I personally have two goals I'll be working on in 2010. The first is supporting the ASAP Daisies and doing whatever it takes to get them off the ground successfully. We currently have a group of 13 ladies that I'm very proud of and think they will do awesome things. ASAP will be partnering with them in the late Spring to bring you the first ever Albany Olympics. Events like dizzy bat, egg toss, bag races, wheelbarrow races will be included. We're trying to make it exactly like a 3rd grade field day for adults.
My second goal is to start traveling to NYC more often to set up another chapter there, as well as organize the first ever Speedini Sprint in NYC. I'm confident we do a great job with our event in Albany, but bringing it to a larger audience and pushing the pace is what this is all about.
Albany is my city. I grew up a stones throw from here and no matter how much people bitch about it, I love it and always will. The only guy that probably loves this city more than me is Jerry Jennings. So if I'm going to make my life here, I want it to be as fun as possible and help the people that live here enjoy it. That's the true underlying principle that guides ASAP these days: make Albany as fun as possible and the money and charity will present itself.
Jasen's comments have been lightly edited and condensed.
Say Something!
We'd really like you to take part in the conversation here at All Over Albany. But we do have a few rules here. Don't worry, they're easy. The first: be kind. The second: treat everyone else with the same respect you'd like to see in return. Cool? Great, post away. Comments are moderated so it might take a little while for your comment to show up. Thanks for being patient.