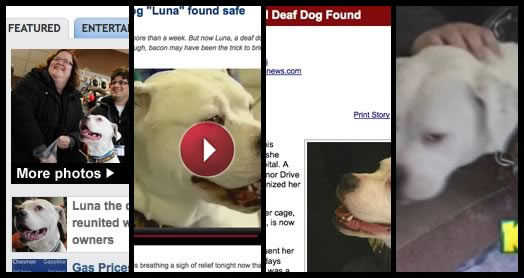 It's pretty safe to say that we're dog people at AOA. Heck, we never shut up about the office dog.
But yesterday afternoon while watching the news spread that Luna -- the Capital Region's now-famous missing bulldog -- had been found in Colonie, we started thinking: Did this get out of hand?
The coverage of Luna's story started the way a lot of stories do these days -- online. Her owners had sent out an email asking people to keep an eye out for her. It didn't seem to take long before the word spread -- as best we can tell, we got the forwarded email just a few hours after it was sent out (it appears we were four connections away from the owners). Then we saw it mentioned on Twitter. (Yep, we re-tweeted.)
So, this all started very reasonably. A dog was missing, its owners sent out an email asking for help -- and people helped. That's good. But then it grew.
The story was posted on a TU blog about dogs. (Sure.) One of the TV stations picked it up. (Well...) There was coverage of the search party. (Really?) And then, after Luna was found on Monday, a press conference (What?). The story ended up being mentioned on every one of the local TV stations ("We'll tell you how bacon is responsible for this reunion") and was prominently featured on the front of the TU's site.
We're sure this was an important, heartbreaking (and then happy!) story for a few people And from a media perspective, it was an easy story -- beginning (cute dog escapes), middle (people searching) and end (She's found!). Yet -- dogs go missing all the time. And this was just one dog. Did she -- and her story -- really merit all the attention?
Media people will tell you that readers/viewers/users love dog stories. And this story was no different. The original post about it on the TU's Dog-Owned Life blog had generated 140 comments by Monday evening. That kind of comment count almost certainly means a whole lot of traffic.
And that sort of traffic means coverage. But when that happens, stories start to become a sort of self-fulfilling prophecy. We cover them because people know about them and are interested in them. But people know about them and are interested -- because we're covering the stories. In a way, the Luna story is as little like those missing young woman stories that were so popular during the last decade. She's like the Capital Region's canine Natalee Holloway.
There are consequences to all that coverage -- mainly, that other stuff didn't get covered. And in this case, "the other stuff" might not have been any more important -- especially during the slow first week of January. But as news organizations cut and cut and cut, you gotta wonder if spending resources on one lost dog is the best decision. If that's what people want to read/see/hear about, maybe it is. (And, yep, welcome to our glass house, have you met our friend Craig?) It depends on how you think the media should take part in discussions.
That said, we see an upside in all this coverage, too. The Luna story showed how easy it can now be to get the word out about an issue, even at the local level. And when the word spread, people took action. It was estimated that about 75 people showed up this past weekend to look for Luna. It's good to see people actually do something about an issue that concerns them.
And we gotta admit: we were happy to see Luna back with her people. We love dogs.
Say Something!
We'd really like you to take part in the conversation here at All Over Albany. But we do have a few rules here. Don't worry, they're easy. The first: be kind. The second: treat everyone else with the same respect you'd like to see in return. Cool? Great, post away. Comments are moderated so it might take a little while for your comment to show up. Thanks for being patient.