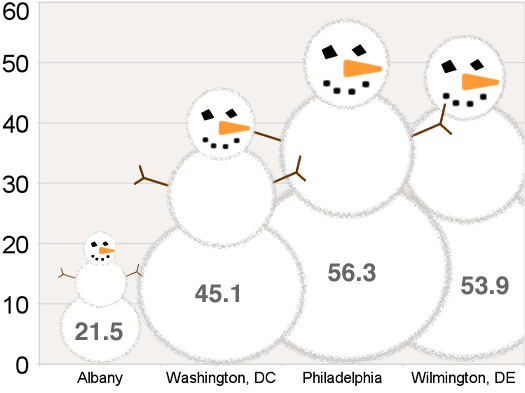 As cold as this winter's been at times, it has not been snowy. In fact, the Capital Region has gotten just 21.5 inches of snow this season -- that's off more than 18 inches from the usual total by this time of year.
But while we've been relatively snow-free, other parts of the East Coast have been in the middle of Snowmegeddon. So, indulging in a bit of wetterschadenfreude, we thought it would be fun to see how our snowfall totals stack up (or down) to these other normally not-so-snowy climes. (Yes, DC -- that's very unfortunate. Very.)
A few select cities are compared above in the snowman graph. More totals -- with normal totals -- after the jump.
By the way: we've actually noticed lately a few people lamenting the lack of snow this year. Gotta say we didn't see that coming.
Snow is forecasted for Wednesday...
All totals from National Weather Service
Hi there. Comments have been closed for this item. Still have something to say? Contact us.