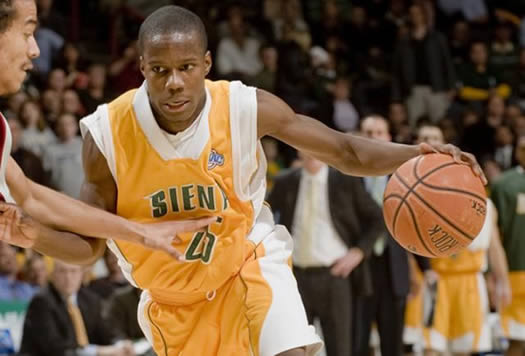 Siena point guard Ronald Moore got some well-deserved national attention yesterday in a NYT profile. The piece has some interesting bits -- about how Siena was able to land Moore; and what he said to Rick Pitino during last year's second round game in the NCAA tournament.
Moore is a remarkable player in that he may very well be the MVP of this year's excellent Saints team -- and yet he's only their fifth leading scorer. But he contributes in other ways. Moore leads the nation in assists per game -- he also controls the tempo of the game and keeps teams from pressuring the Saints.
As Ed pointed out recently, Siena is having a great season -- even by the standards of the last few years. It has a 14 game win streak going, most recently an 88-68 victory over Iona -- the second-place team in the MAAC. The Saints continue to get votes in the AP Top 25 poll. And they'll take on #18 Butler in the showcase "Bracket Buster" game on ESPN later this month.
Siena faces Fairfield tonight at the TU Center at 7 pm. The game will also be on MSG (ch 73).
[Thanks, Rob!]
photo: MAAC Sports