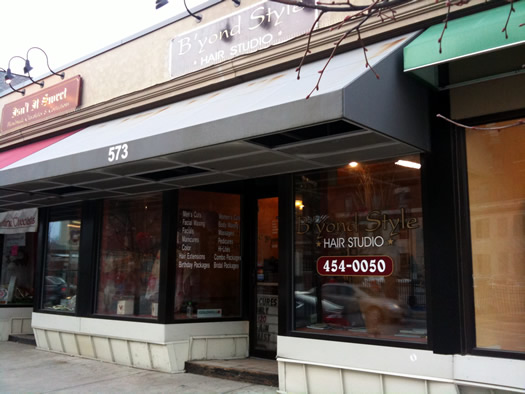 AOA Greg was in a long-term haircutting relationship for the better part of the last decade. And then he wasn't. Suddenly unattached, Greg was at a loss for where to get his hair cut. So he asked the AOA crowd -- and it had a bunch of good suggestions. Now he's playing the field, in search of a new shop.
The shop up this time around: B'yond Style on New Scotland in Albany, across from St. Peter's. And, wow, did they have their work cut out for them -- my hair was a mess.
The before and after pics after the jump...
Stylist: Cody
Recommended by: Albany Jane and Meg S.
The cut -- just before and right after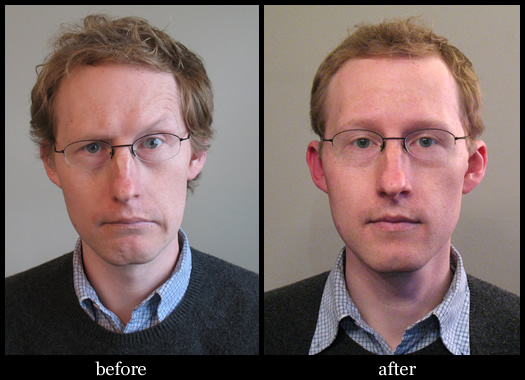 The shop
B'yond Style isn't a big shop, which -- along with its warm palette of earth tones -- makes it feel kind of cozy. And I could walk there -- so +1 for that.
I have no doubt that guys get their hair cut here -- in fact, Cody told me about some of her male clients. But the magazine selection appeared to be all Cosmo and the like.
The stylist
Cody was nice and very professional. She took a few minutes in the beginning to ask how I usually get my hair cut and what I was looking for.
She was also easy to talk to. We joked about how someone should open a combination salon/therapist business.
Price
$20 -- that seems reasonable to me. It also included a pre-cut wash with tea tree shampoo, which tingled -- and I gotta say, I kind of liked.
Results
It's short! Probably a bit shorter than I was hoping for. I attribute a lot of that to this being my first visit -- and the incredibly bushy state my hair had been in. It had been something like 10 weeks since my last cut.
That said, the cut is perfectly fine. And, really, most hair cuts need a few days to grow out/adjust.
Mrs. Greg's take
"Short. But it's good. I like it."
Would I go back?
Sure. The cut is good. The price is right. Cody was cool. And I can walk there.
Find It
B'yond Style
573 New Scotland Ave.
Albany, NY 12208
454-0050
Hi there. Comments have been closed for this item. Still have something to say? Contact us.