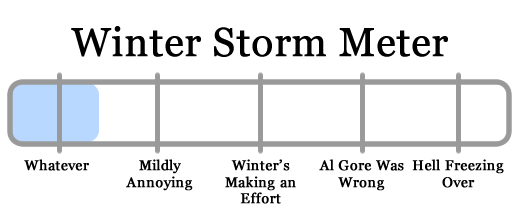 Look out the window: it's probably snowing. But it appears this is just part of winter's half-hearted effort this year. Here's the paraphrased forecast from the National Weather Service:
Today: It will snow. Accumulation of maybe three inches. High temp around freezing.
Tonight: Probably some more snow, but not much. Maybe an inch.
Wednesday: High temp in the upper 30s. Maybe a bit of snow. Very gusty.
Thursday: More highs in the upper 30s. Maybe some sun. Again, windy.
Friday: About the same.
With that in mind, we're pegging this Icy, Snowy Apocalypse at just a touch above "whatever." If this keeps ups, we're going to have re-calibrate the meter.
By the way: This season's snowfall total is just 22.4 inches (as of yesterday) -- that's more than 21 inches behind where we usually are by this point in winter. Pity the snowmen.
Necessary note: You should take this all with an enormous bag of rock salt. AOA has absolutely no weather forecasting expertise. At all. We do, however, think it's funny how every winter storm is treated like the end of the world. Also: Ellsass, we're sorry.