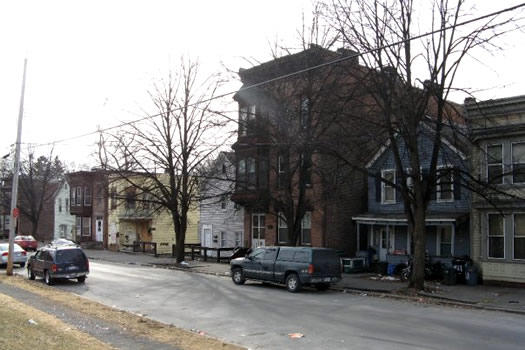 By Kim M
A few weeks ago after a post about median home prices around the Capital Region, Kim M commented that she thought people undervalue Troy. We were interested to hear more about why she thought that, so we asked her to write a post about it.
I love Troy. If you don't know that about me then we've never met.
Sometimes I feel like a crazy evangelist for Troy, but I just can't help myself.
Because Troy is underrated.
I moved to Troy in 1999 to attend grad school at RPI. I fell in love with the city the moment I laid eyes on her. While apartment shopping downtown, I couldn't believe all the beautiful buildings. If you'd been in the car that day, all you would have heard was "OMG look at the house! ... ooooh, look at that one! ... OMG I WANT THAT ONE! No, wait, THAT ONE!!!"
However, if anyone would have told me at the time that I actually would buy property in Troy, I wouldn't have believed it. I was a country girl. My high school class had 34 kids. That's right, THIRTY-FOUR. I earned my bachelor's in the middle of nowhere, too. Troy was "big city" to me -- it was a little intimidating. (You can stop laughing now.)
My first place here was a budget-friendly one bedroom near Russell Sage in a carriage house. Neither the apartment, nor the building, was much to look at, but it was tucked behind beautiful houses, with a little courtyard. This country girl still had grass.

And then, slowly, Troy became home. I'm not sure when it happened exactly. I know it was definitely some time after learning that DeFazio's makes the best damn pizza on the planet.

In the years since, I've watched with pride as the area of River Street around Brown's Brewery has bloomed. I've seen great shows at the Troy Music Savings Bank Hall and Revolution Hall. And I've frequented the numerous restaurants, art galleries, coffee shops, jewelers, the antiques district, the shoe repair shop -- now there's even a hardware store. To me, Troy's downtown is what urban living is supposed to be about: convenience, walkability, and beauty.

I STILL ooh and ahh over buildings here. My infatuation with Troy's architecture just keeps growing deeper. I have several books about Troy in my library now, my favorite probably being Don Rittner's "Troy (Then & Now)." Seeing the buildings we've lost makes me shake my fist in anger, but I'm also very appreciative of the history that remains.
That's why I bought a house here in Troy's North Central. (North Central is the neighborhood from Hoosick St. north to Lansingburgh, from the river up the hill to Frear Park.) If I ever won the lottery, I'd "waste" my winnings buying up blocks to save these old beauties from decay and neglect.
Yes, right here in North Central.

I knew what I was getting into when I bought my building this past summer; I had been a tenant here since 2005. I'll admit my original selection of the neighborhood was strictly financial. The rent was cheap, the building was owner-occupied, and the apartment was enormous for the price. The street looked rough, vacant buildings every few houses, trash blowing all over the sidewalks.
For the first couple of weeks, every time I turned onto my street, the soundtrack in my head was Elvis singing "In the ghetto." But my landlord, Joe, was an ancient old-school Italian and the other tenant had been there 10+ years, so the building felt safe. Joe was awesome. He wasn't afraid of telling the riff-raff hanging out on the stoop late at night to get lost. (If he heard them.)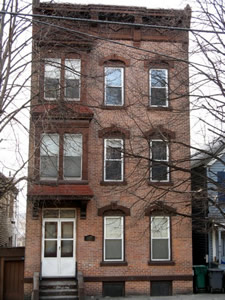 When Joe passed away in April, he was 100 years old. His family decided to sell the building, and I decided I couldn't bear the thought of some absentee landlord buying the place. I loved this house. Don't get me wrong, it needs work, most of the houses in North Central do. Even though I swear it's tried to take my life a couple of times, its character is too much for me to resist. There are hardwood floors, tin ceilings, and large archways separating the main rooms -- with functioning pocket doors! I couldn't let this place slowly rot away. So ten years after I first moved here I bought property in my new beloved home town.

I think North Central's vacant buildings and trash make it look rougher than it is -- at least on my block. I'm not saying it's safe; I've rarely walked the half-mile to work because I worry I'm going to get mugged on the way. But I have hope that someday North Central will feel as walkable as downtown.
I've already seen some changes in the right direction. A few vacant buildings have been, or are in the process of, being renovated. The city recently announced a vacant building demolition program. After tweeting my disappointment that a vacant building near my house was not on the list, Mayor Tutunjian apparently checked it out with Code Enforcement and it's now on the list! The Troy PD started focusing on the area a couple of years ago, much to my relief. And now the mayor has announced a neighborhood revitalization plan for North Central and South Troy. I hope the investment pays off.
I have confidence that it will -- because of people like Jim. He's the best neighbor in the world. Jim shovels in front of my house "because I just got used to doing it for Joe." I think my dad -- who still lives out the middle of nowhere -- would have a difficult time believing people like Jim exist in the city; any place this "crowded" must be "impersonal" or "unfriendly." But to me, Troy is full of people like Jim -- friendly, helpful, proud to live here.
And now I'm one of them, too.
Hi there. Comments have been closed for this item. Still have something to say? Contact us.