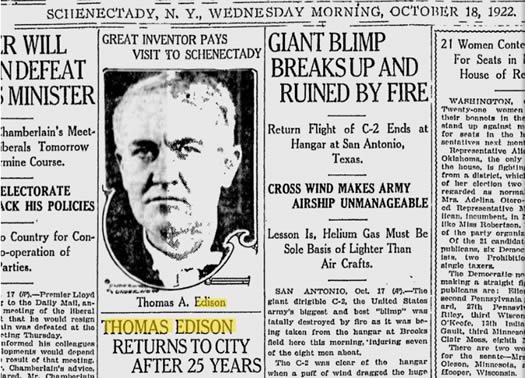 This is cool: Google is digitizing the Daily Gazette's microfilm -- and it's indexing the archives using optical character recognition (that's software that can "read" the text in images).
Google has already indexed 7.6 million Gazette articles, according to the newspaper's site. The current index stretches back to the 1920s, but paper the archive will eventually include articles from 1897 forward.
The archive is fun to do through. You can search for a topic, read the article (and link to it), zoom out to see page on which the article originally appeared, shuffle through adjacent pages and click on headlines to zoom back in. For example, here's an article from 1922 about Thomas Edison's return to Schenectady. As far as we can tell, you don't have to be a subscriber to use the archive.
Google has working with newspapers to digitize archives since 2008 (and few major papers before that). It shares ad revenue from the archives with the papers.
screen grab: Daily Gazette
Hi there. Comments have been closed for this item. Still have something to say? Contact us.