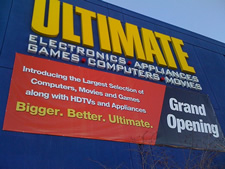 As part of Tuesday's post about dead malls and empty big box stores, the former Circuit City space at Crossgates Commons came up. And as Andrew, Chris and Laura pointed out, there's a electronics chain going into the space.
Ultimate Electronics is a Colorado-based chain, in its own words, is "undergoing a rapid expansion" (100 new stores planned for the next year). As a broker told the Biz Review: the company "saw a void in the Northeast." (Funny, we hadn't really been feeling the void since Circuity City left.) The chain's site claims it shops Walmart and Best Buy everyday and then adjusts its prices so they can be lower.
Laura -- who knows a thing or 100 about this sort of stuff -- was nice enough to do little digging on the chain:
I checked Consumerist's tipline and archives, and I can't find anything *bad* about them, so that's a start. The only thing we have is that they were fined, along with pretty much every other store that sells TVs, for selling analog TVs without warnings about the DTV switch a couple of years ago.
The store is expected to open in late spring or early summer. [TU]
(Thanks, Laura!)
photo: Flickr user Dave Dugdale
Hi there. Comments have been closed for this item. Still have something to say? Contact us.