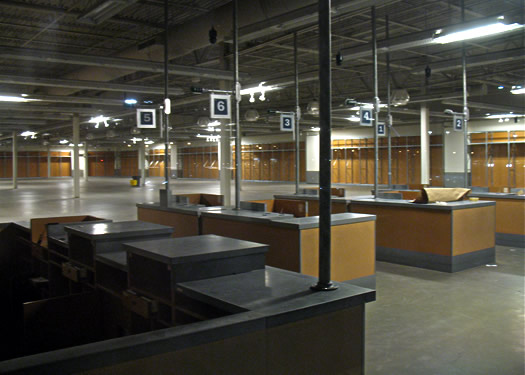 Matt recently passed along a link to a site called Dead Malls. It's pretty much what it sounds like: a site that lists "dead malls" -- malls that have closed or, as is often the case, stagger on with few stores and little traffic (undead malls?).
The site includes a handful of entries from the Capital Region. Here's a clip from a remembrance of the Mohawk Mall in Schenectady (it's been transformed into Mohawk Commons):
Right in front of Bradlee's there was a small fountain. This, as my Cousins would say, was the place to be. It was where all the "cool" teenagers would hang out. During the 80's it was a place where the good girls from Niskayuna would go to meet the bad boys from Schenectady (very John Hugh's Teen Flick). My cousin said that it was a great place to hang because the arcade was close and you could grab a slice and the Orange Julius stand was close by (which unfortunatly didn't survive the early 90's remodel). The McDonalds that was near Bradlee's was pretty cool too, they had a "Tree Table" which was a large fake tree with a face that used to talk that had a counter around it. You could eat and listen to some crazy tree talk and tell stories.
This got us thinking about empty big box stores -- a growing problem in many places. Julia Christensen, an RPI grad, has studied how communities re-use these spaces (one example: a K-Mart turned into a Spam museum -- we kid you not). As she told The Infrastructurist last year, there are real estate companies that are starting to specialize in developing new uses for these properties.
Back from the dead?
The Spotlight News reports that the owner of The Latham Mall -- which is on the list of "dead" malls -- is "in discussions with a single-entity tenant that could buy up all the vacant space in the shopping center." That's fueled speculation about who this tenant could be.
And is there something sprouting in one of the empty spaces at Crossgates Commons?
And there's something new going into the old Circuit City space at Crossgates Commons. (Thanks, Andrew, Chris and Laura!)
(Thanks, Matt!)
Hi there. Comments have been closed for this item. Still have something to say? Contact us.