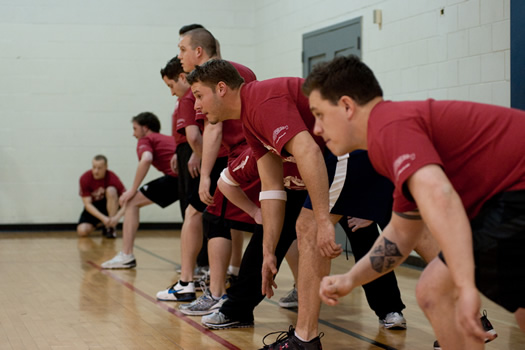 By Jessica Pasko
Albany could soon lay claim to a new record: the world's longest dodgeball game.
The folks of Albany Dodgeball, which is made up largely of members of the Albany Society for Advancement of Philanthropy, are trying to set a new Guinness World Record -- but they need a little help.
Here's the deal...
Albany Dodgeball captain and all-around mover n' shaker Jasen Von Guinness says his team will be playing against Hometown Dodgeball from Clifton Park. That team, led by Von Guinness' buddy Rob Immel, is made up largely of members from the newly former Saratoga Society for the Advancement of Philanthropy.
Two years ago, Immel helped set the current record for longest dodgeball game ever with a 24 hour game in Clifton Park.
This year they'll be playing for 31 hours, 11 minutes and 13 seconds. (It's a palindrome.)
Here's how it will work:
Two teams of 10 players each will play at The Washington Avenue Armory from Monday, April 5th at 10 am until just after 5 pm Tuesday.
Each team has to have six players at the start of every "rush" (that's what happens at the start of each game or reset) so that'll give the players some time for breaks and rest in between. All standard National Dodgeball League rules will be followed.
Why? Why not, really. Mostly it's for fun, but they're also hoping to attract more attention to the sport.
The teams are in place, but they do need some help.
Renting the Armory for 31 hours won't be cheap -- so Von Guinness will be slinging drinks at Broadway Joe's Friday from 4 to around 8 pm to help raise funds. He's hoping people will come have a cocktail to support their efforts. If you can't make it Friday, they're accepting donations as well, and any leftover funds will go toward a scholarship.
They're also encouraging people to come over to the Armory, watch the game and cheer them on. And if you brought some coffee or a couple of cans of Red Bull, they'd welcome that, too.
This Saturday night you can get a preview of Albany Dodgeball at the Albany All-Stars Roller Derby bout. They're holding a mini dodgeball expo at halftime to call attention to their effort and just have some fun. Von Guinness says they did it last year and it was a blast.
If all of this puts you in the mood to get in a game, Albany Dodgeball will still be playing regularly on Thursday nights from 8:30 to 10:30 pm through April 29, and there's an end of season party planned for May 8 at the Pearl Street Pub.
photo: Brian Kraus

Find It
Washington Avenue Armory
195 Washington Ave.
Albany, NY 12210
World's Longest Dodgeball Game
Monday, 10 am - Tuesday, 5 pm
Hi there. Comments have been closed for this item. Still have something to say? Contact us.