By Kaitlin Resler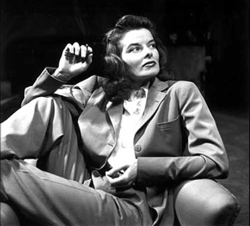 A few weeks ago Erik investigated men's interview suits, and the many suggestions on where to find suits for women sent me on a shopping trip of my own.
For women, the classic suit is slightly different than for men. It seems standards of dressing for interviews or general office attire are more varied. Not only can cuts of jackets and pants morph into something totally different from the standard cut (cropped, peplum, pleated and high-waisted, ruffled, boxy, fitted), but the option of skirt to trousers is always there.
So I went and wandered around, checking out some of the suggestions, trying on all kinds of suits. And I found quite a lot...
Express
I've always thought of Express as a pretty basic place to get office-casual wear. You probably won't find much in the way of suits here--they have some blazers and suit-ish things, but for the blazers the quality isn't quite impeccable (I'm hard-pressed to find any wool here, or even cotton--lots of synthetics). Their pants are quite nice though--with varying lengths so you might not have to take them to a tailor for hems--and available in loads of colors and fabrics. They aren't perfection, but they're usually a good price and would allow you to splurge on a pricier top elsewhere.
Banana Republic
I got my first classic wool black blazer from Banana for Christmas a handful of years ago, and it has never let me down. I figured this would be a nice place to check out--and it's not too bad. It was one of the first examples of what I was going to find in a lot of places--lots of jackets and dress pants, but hardly any actual suits--but with the slightly bendy rules of women's suit options, grabbing a blazer, jacket, dress, or skirt from here isn't a bad idea. I did find a nice lightweight suit (the shade hovering between a slate and dove grey) towards the front of the shop. The pants topped out at $79.50, while the jacket was $129. Special sizes aren't in store in all styles (petite or tall) but can be ordered. They also offer tailoring for hems and the like, for a price, although for more extensive tailoring one might want to pop over to one's already-known tailor.
Ann Taylor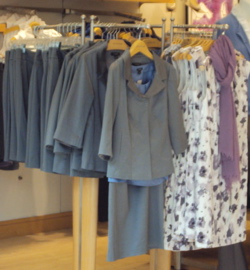 Only popped into Ann Taylor for a second here, and was distracted immediately by this pretty alternative-cut suit in the front of the store. The color is also unexpected and interesting, but not totally insane, with each piece something that would translate well other outfits when separated. I liked the skirt alternative to trousers--one of the advantages of women's suits is swapping out the pants for a neat skirt when the weather gets warmer--and the display suit pared with a blue blouse is springy and fresh. I've really been admiring the blouses Ann Taylor has had for the past few seasons, most with clever silk details that would look great under a standard suit. The jacket by itself hangs out at $198, and most of the pencil skirts paired with this are around $108.
Macy's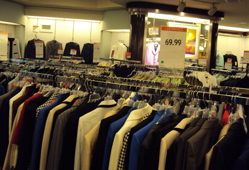 I'm going to go out on a limb and say this is the place to go for a suit if you need one. Across from the shoe section is an entire bit devoted to suits (in the Colonie Center Macy's, of course) and even a section for petite. Some of the suits are ridiculous. They're probably adorable on someone, but white and black polka-dots with yellow trim and a patent belt isn't exactly versatile or exactly interview-appropriate. There is a lot of choose from, even the sale section is gigantic.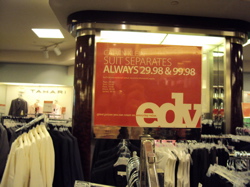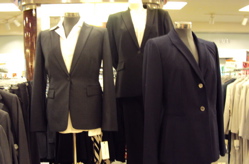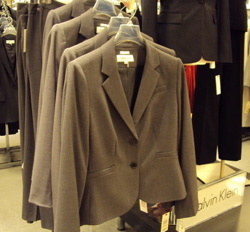 There are some great brands though, and I was particularly partial to the Calvin Klein suits (especially a navy one) for their classic lines (not too short in the waist!) and range of prices. I also found a few skirt-suits with pencil skirts and pretty details at the shoulders and collars for a bit of interest.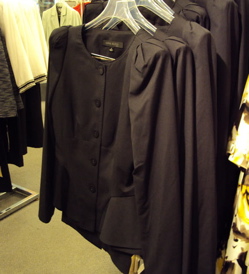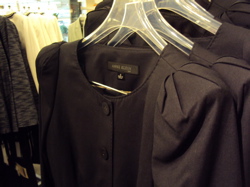 Prices are all over the place, and unlike in the men's suit section (where I've wandered while being the suit-seeking-accompaniment), I was largely on my own for this one. Which is fine, but if you want a more hands-on suiting experience, I'd check out J. Crew, Banana, or Ann Taylor.
Hi there. Comments have been closed for this item. Still have something to say? Contact us.