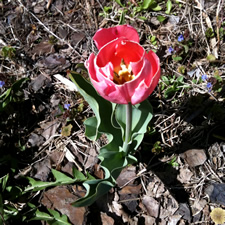 Emailed StickFigureMan today:
How do people keep the squirrels from shredding their tulips?
Every year it's the same: The squirrels wait till the buds are plump and ready to bloom, giving me hope that maybe I'll get to see my flowers this year. Then they destroy them. They don't even eat them. They shred them with their little claws and leave the petals scattered about to mock me.
I've made them sacrificial offerings of bird seed. But squirrels don't honor treaties. Last year I made habanero tea and sprayed all the tulips. Mmm, spicy, said the squirrels, as they ravaged on.
I am consumed by jealousy when I see yards bursting with tulip color. What do they know that I don't?
We suggest renting a fisher and giving those smug, treaty-breaking squirrels a run for their lives.
Perhaps you have some less radical suggestions for StickFigureMan?
Hi there. Comments have been closed for this item. Still have something to say? Contact us.