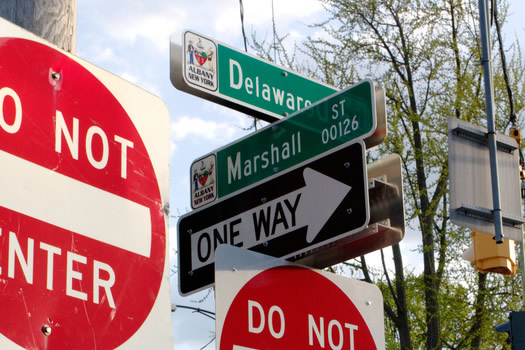 After D mentioned the new mixed-case street signs on the reconstructed section of Delaware Ave in Albany, B went out a took a photo (you can see the old-style all caps signs in the background of the large version).
Both D and Summer commented that the new mixed-case signs are hard to read. Wrote Summer: "It makes no sense to me, because all you see is a big "D" and the rest is tiny."
As CapHwys noted, mixed-case lettering on street signs is now a standard in the latest edition of the Manual on Uniform Traffic Control Devices, the bible for road signs. There's research from as far back as 1950 that using mixed-case, as opposed to ALL CAPS, is easier to read. (Although, the gains from lower case letters apparently drop off when people aren't sure of the word they're looking for.)
Earlier on AOA:
+ Next exit: the correct lettering?
+ Next exit: illegibility
photo: B
Hi there. Comments have been closed for this item. Still have something to say? Contact us.