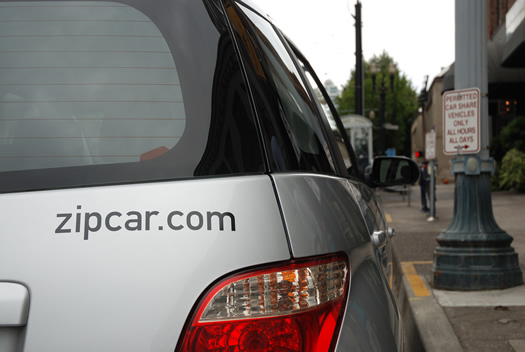 The ASP's Jon Campbell reports that car sharing is coming to UAlbany via partnership with Hertz.
Over the last few years we've heard a handful of people -- online and off -- express their desire for car sharing here in the Capital Region.
A company called Zipcar has apparently had success with the concept in other metros -- especially during the recession. Some cities, such as Chicago and San Francisco, have seen non-profit car sharing services pop up.
Rates for the service start at around $6.75/hour. It appears the non-profits tend to have lower fees than Zipcar or Hertz.
Wrote Paul Boutin about Zipcar in Slate a few years back:
Car sharing shifts a smaller number of cars into a much higher duty cycle. Economies of scale kick in for everyone--fleet prices for cars, corporate rates for fuel (there's a gas card on the visor of each car), group insurance, long-term parking bought in bulk. The company handles maintenance and washing, too.
But most important, car sharing turns members into automotive swingers, free from having to commit to one model. In the city, middle-class people own a nice car. Rich people own lots of them. Zipcar makes me feel rich.
We could see this concept working well on college campuses -- in fact, Zipcar says it already has operations at more than 100 colleges. We wonder if there would be enough demand here among the non-college set (Center Square, perhaps?). It'd be interesting to find out.
Earlier on AOA:
+ Transit-riding now Common Counncilwoman Leah Golby expressed her desire for car sharing
photo: Flickr user Jason Rodriguez
Hi there. Comments have been closed for this item. Still have something to say? Contact us.