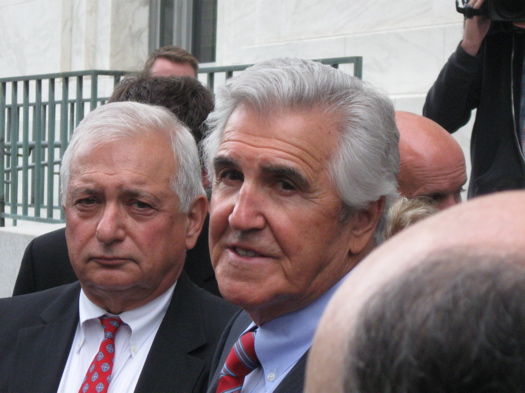 A federal judge sentenced Joe Bruno to two years in prison on corruption charges yesterday.
Here are a bunch of the quick scan highlights from the coverage -- including bits about the "vintage" Bruno speech, the judge, the sentence and the reaction.
The speech
During the sentencing, Bruno made a long speech defending himself, which NYT's Jeremy Peters described as "vintage Bruno, part stump speech and part farewell address." [NYT]
Said Bruno at one point: "I can say this to you as honestly as I can say anything. In my heart and in my mind, I have done nothing wrong. Nothing. Maybe I used some bad judgment, maybe I was cavalier in the some of the ways I used my business judgment." [Fox23]
And he remarked on the charges against him: "How on earth could they (the jurors) ever follow the charges? ... I don't understand the eight counts and I was on trial!" [Troy Record]
Remarked the Village Voice's Tom Robbins: "Former state senate boss Joe Bruno's speech at his criminal sentencing yesterday was so full of self-applause that you almost expected him to just keep going and announce his candidacy for the Republican nomination for governor." [VV]
The judge
The speech didn't seem to go over well with the judge Gary Sharpe, who said: "I didn't hear one word of contrition here." He also said: "I sat here listening for you to turn to the citizens of New York and say you're sorry. You didn't do it. You didn't do it because you're not sorry." [TU] [Troy Record]
And when Bruno said he hadn't committed any crimes, Sharpe responded: "You continue to believe that. That's not true, Mr. Bruno, you committed a crime. The jury told you that. ... You have blinders on." [Buffalo News]
The judge also had harsh words for the state Senate lawyers who advised Bruno: "They disgust me ... They prostituted themselves."
The sentence
The sentence: two years in prison, three years probation and $280,000 in restitution. Bruno can stay out on bail until the Supreme Court of the United States rules on a group of "honest theft of services" cases before it.
Sharpe said he considered age and Bruno's public service, but added: "There is an element of deterrence that deals with your brethren [fellow legislators] up on the hill."
Bruno's attorney said to the judge during sentencing: "Don't sentence Joe Bruno for the sins of Albany."
Said Bruno afterward: "It goes without saying that I am very unhappy with the result here." [Karen DeWitt]
The US attorney for this district on the sentence: "[It] reflects the seriousness of the offense, promotes respect for the law, provides just punishment and deters others from corruption." [NYDN]
Afterward
Video of Bruno's comments outside the court house after the sentencing:
[State of Politics]
Reaction
A Times Union editorial concluded that justice was done. [TU]
The Troy Record's Jim Franco: "We suppose that was a fair sentence, or as fair as it could be."
A Poughkeepsie Journal editorial called it "an incredibly light sentence." [PoJo]
Remarked a NY Post piece: "... Bruno is no victim -- he knew how the Albany game is played, and few played it better." [NY Post]
Said a Daily News editorial of Bruno: "... after years of unaccountable power, he lost sight of the distinctions between right and wrong, public and private, person and title."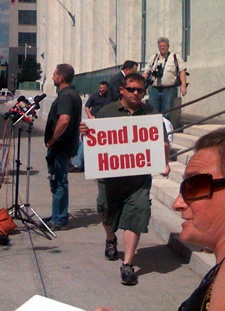 Said Bruno friend Stephen Coffey: "I wish it had been less, but overall I thought it was not an unfair sentence." [WNYT]
Saratoga County Republican chairman Jasper Nolan said he was disappointed by the sentence: "You need to judge a man or woman by their total life, especially when they get up to that age and you can review what they've done for society." [Post-Star]
State senator Betty Little to the TU: "He's done a lot of good, and it's a sad ending ... "It's a black mark on the Legislature -- as are many of the other things that are there in the Senate right now." [TU]
Senate Democratic leader John Sampson: "Joe Bruno treated me with respect during our time in the Senate, and I am sad for him and his family." [TU CapCon]
Said a man in East Greenbush to Fox23: "I realize he's 80-years-old. Hes done a lot for the district, but what if it was me? They would put me in jail." [Fox23]
Said a guy outside the court house a holding a sign in support of Bruno: "He did a lot of good for us." [Daily Gazette $]
Earlier on AOA:
+ Joe Bruno sentenced to two years
+ Should the "Joe" name go?
+ Speed reading the coverage of the Joe Bruno guilty verdict
+ Joe Bruno guilty on two counts
+ Retro Joe Bruno
Say Something!
We'd really like you to take part in the conversation here at All Over Albany. But we do have a few rules here. Don't worry, they're easy. The first: be kind. The second: treat everyone else with the same respect you'd like to see in return. Cool? Great, post away. Comments are moderated so it might take a little while for your comment to show up. Thanks for being patient.