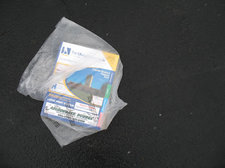 Verizon has asked the state Public Services Commission to drop the requirement that it deliver phone books to all its customers. From the company's waiver request:
Technological advances, such as Internet directories and the directories in wireless and wireline devices, have made customers much less reliant on, and interested in, printed residential white page directories. Verizon thus proposes to adopt a more customer-focused and environmentally conscious approach to the distribution of white page directories: if granted this waiver, Verizon will distribute such directories "on-demand" to customers that request one.
Verizon cites a private Gallup survey that reported only 11 percent of household used the white pages in 2008. The company says it could probably save 5,000 tons of paper each year by not printing the books.
A Verizon spokesman told NYT that it hopes to have the requirement waived by the end of the year. A spokesman for the PSC tells the TU that Verizon is the first company in the state to make such a request.
We have to admit that the seemingly never ending stream of phone books has irked us for some time. Apparently we're not the only ones.
In 2009, the City of Albany adopted an ordinance that requires phone books to prominently list opt-out info. As common councilman Joe Igoe, the sponsor of the measure, told us in August 2008:
I was out in February going door-to-door for the presidential campaigns and I noticed all of these phone books on doorsteps. So I started an informal poll. I really didn't know it was such a hot issue. People are frustrated about them. ...
There was certainly a time when they were useful. We used to get catalogs too. I used to look forward to getting holiday catalogs. But most of those companies don't make catalogs anymore. They cost a lot of money to print, they're bad for the environment and people are shopping online. Times have changed and the phone book industry needs to keep up with these changes.
Update: As Bill and Fred point out (and as we should have), this proposal doesn't apply to the yellow pages. You can try opting out of those.
Hi there. Comments have been closed for this item. Still have something to say? Contact us.