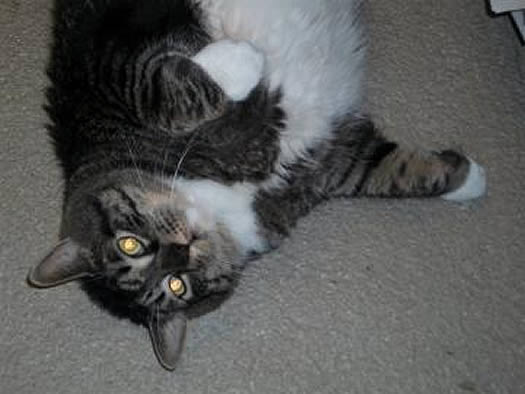 Update: Don't miss The Secret Photostream of Flabby Tabby
The Mohawk and Hudson River Humane Society says someone turned in a 30-pound cat on Friday. From the org's email press release (emphasis added):
The Mohawk and Hudson River Humane Society receives thousands of stray cats every year, but on Friday afternoon they received a cat like no other. A brown tabby with a white belly is not unusual, but a cat weighing in at 30 pounds is almost unheard of. The Guinness Book of World Records no longer tracks heaviest animals because they do not want to encourage the overfeeding of pets, but their last recorded 'heaviest cat' was 46 pounds.
The cat currently being held at the Humane Society was brought in by a Good Samaritan who found her in Watervliet. It is doubtful that the cat wandered very far from home, but no one has come forward to claim her as of yet. Humane Society staff is certain that the cat belongs to someone, in part because it would be extremely difficult for a homeless cat to maintain such an unusually high weight. "We're sure someone is out looking for this cat, she is very friendly and obviously has a home" Brad Shear Executive Director said. "I just hope they think to check at the Humane Society."
The society has a page that lists found animals -- here's the entry for the flabby tabby.
(Pet obesity is apparently a growing problem. One org figures about half of all American pets are overweight. And the American Veterinary Medical Association reports that about 25 percent of dogs are obese.)
Shear recently wrote on his blog that the human society has an unusually large number of cats right now -- 330, compared to 200 this time last year. He guesses the feline abundance is the result of two factors:
I could theorize about a lots of things, but I think there are two primary reasons. First and foremost, its the economy. People are bringing us cats that they can't take care of for economic reasons while at the same time, people are not adopting cats because they are concerned about their future ability to care for an additional pet. The second factor is weather. Milder weather this year may have led to more cats breeding successfully and producing more offspring. Ultimately what we really need to do is work toward more people spaying or neutering their pets.
Hi there. Comments have been closed for this item. Still have something to say? Contact us.