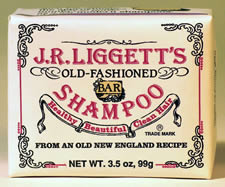 Toni emails:
I am trying to find a local place where I can buy organic shampoo bars? Have any suggestions?
Our first thought was the Honest Weight Food Co-op. So we called 'em up -- and they said they carry a product called J.R. Liggett's Old-Fashioned Bar Shampoo. The product's website doesn't say it's organic, but it does use the word "natural" (of course, that could mean a bunch of things). HWFC sells the bars for $5.99.
Anyone have other suggestions for Toni? Maybe some local shops of Etsy sellers? Share, please!
Earlier on AOA: Jess tried out a locally-made shampoo bar from Serpentine Hair. Last we heard, the line had been sold -- and its website is no longer up.
Disclosure: Yep, HWFC does advertise on AOA. But it would have been the first place we would have thought of after hearing the words "organic shampoo bar" even it didn't.
Hi there. Comments have been closed for this item. Still have something to say? Contact us.