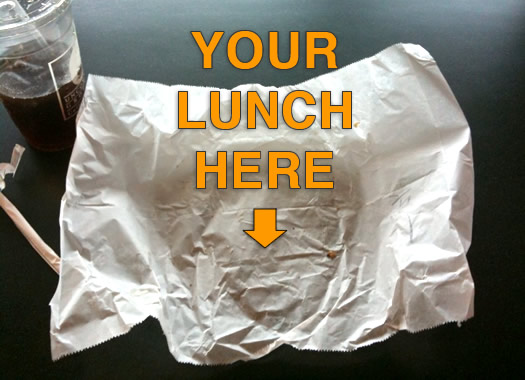 We have something new coming up next week on AOA: Lunch Week.
It's pretty much what it sounds like -- a whole week with posts about... lunch. There will be other stuff, too, including all the usual items. But every day will have at least one post about lunch. Trust us, it'll be fun. We have some excellent contributors lined up to help out.
Here's where you come in
On the last day of Lunch Week (Friday, June 18) we want to do a post about what everyone had for lunch that week. Specifically, the Wednesday of that week (June 16).
So, next Wednesday we'd love for you to snap a pic of your lunch and send it to us at this email address: lunch |at| alloveralbany |dot| com. Please include what's in your lunch, where you got it and how you'd like to be identified.
Lunch can be whatever you're eating that day -- a PB&J from home, a sandwich at your desk from the deli, Chinese at the place down the street, whatever. If you ate it around noon that day, it's lunch.
Everyone who sends along a qualifying lunch photo will be entered in a drawing for, yep... A FREE LUNCH. We'll pick two winners at random. They'll get a $25 gift certificate to their favorite local lunch spot (yep, the winner gets to pick).
OK, to review
Next Wednesday, snap a pic of your lunch and send it, along with a description, to lunch |at| alloveralbany |dot| com
We'll post the photos and descriptions on Friday
Two winners will get free lunch at the local spot of their choice
We all have some fun
Hi there. Comments have been closed for this item. Still have something to say? Contact us.