Lunch Week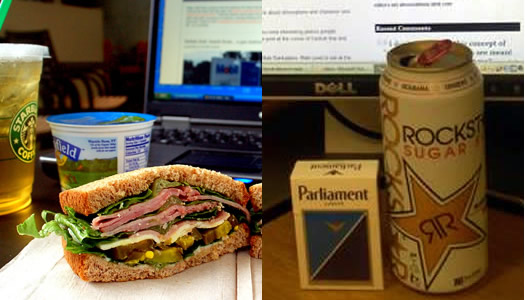 Thanks again to everyone who sent in lunch pics for Lunch Week! It was A LOT of fun to get a peek into so many lunch boxes.
As promised, two people are getting $25 toward lunch at their favorite local spot. And the winners, picked at random, are...
Jackers and Rob Madeo
Congrats to the those two gentlemen. They certainly had very different lunches (above).
Jackers and Rob have both made their gift certificate picks. The names of the places, with why they were picked, are after the jump.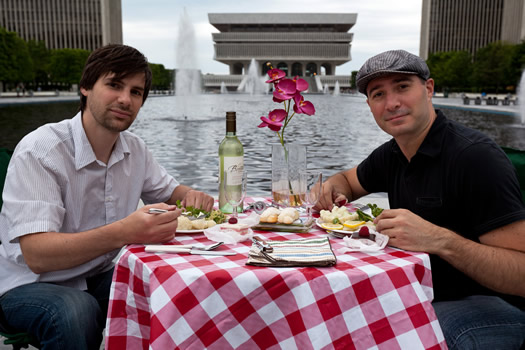 As promised, here's the second course of Lunch Week lunch photos. Don't miss the first course.
The photo above is Bennett and Sebastien enjoying lunch at their own impromptu bistro on the Empire State Plaza. From Sebastien's account:
On the menu? I brought a bottle of Sauvignon blanc and what I had cooked the night before: steamed cod and cauliflower, lemon and chives, guacamole and watercress. I picked up a couple of sweets at Crisan. Had to. Bennett packed... whatever he had until he decided my food looked better, so I shared :) And two cookies. Can't go wrong with that.
Many more lunch pics after the jump.
Again, thanks to everyone who sent along a pic! We'll announce the winners of the giveaway next week.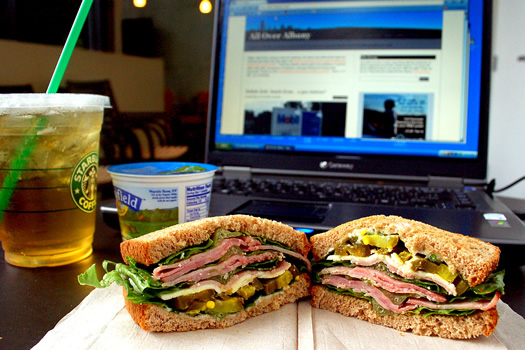 On Wednesday we asked everyone to send along a pic of what they were having for lunch that day. And we ended up getting a bunch of pics! Thanks to everyone who sent them along!
We got so many pics that we're going to break them up into two courses. Here's the first. And here's the second.
The lunch above is from Rob Madeo. Emailed Rob:
I LOVE lunch -- and lunch is when I write blog posts and catch up with All Over Albany!
I always pack my own lunch, which today was a sandwich of Black Forest ham, American cheese, Romaine lettuce, and jalapeño peppers on Freihofer's Hearty Double Fiber Wheat. A little yogurt on the side and wash it all down with an iced green tea.
A lot more lunches after the jump.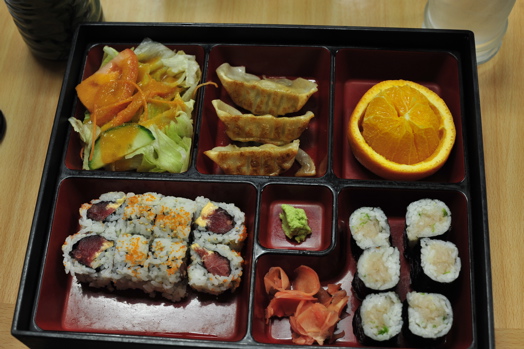 By Jessica Pasko
Something about a bento box, the traditional Japanese lunch box, just makes lunch seem a little more fun.
I can't entirely explain it, but being served a meal that's divided up into little individual sections holds incredible appeal. It seems tidy, precise, organized. And it's fun to look at. Of course, eating it is the most fun part...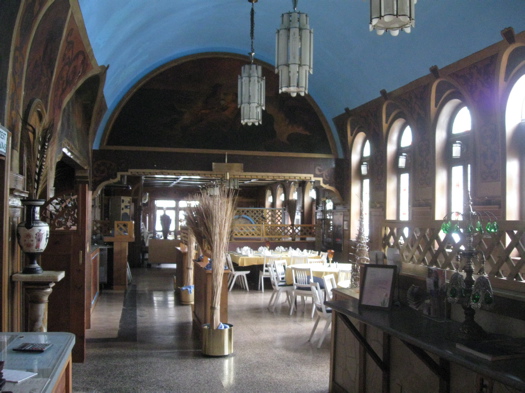 So far, Lunch Week has been all about where to go to lunch now. But it got us thinking about where people used to eat "back in the day."
Restaurants are about more than just food -- they're about atmosphere and character and clientele. They're gathering places full of stories.
From the late 1920's through the 1950's, one of the more interesting places people gathered in Albany was a 24 hour, semi-self-serve joint at the corner of Central Ave and Robin St. called The Boulevard Cafeteria.
Today it houses Ristorante Paradiso, owned by Matt Daskalakis. Matt used to eat at the Boulevard when he came to Albany to play for the Albany Senators in the 1950s. He gave us the tour of the old place, which is virtually untouched except for a movie makeover in the 1980s.
Be sure to scroll down to check out the menus (with prices) from the 1930s and 1940s.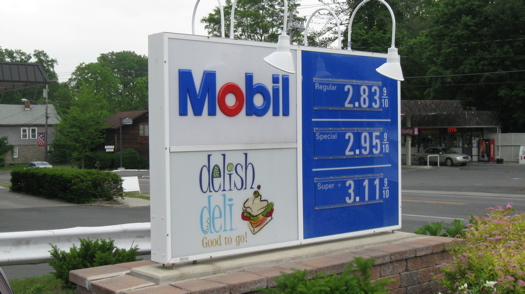 By Jessica Pasko
Gourmet grub from a gas station?
Sounds like a Top Chef quickfire challenge, doesn't it? When users started praising the Delish Deli at the Mobil station in Delmar on Yelp, other users were quick to dismiss.
Really, who goes to a gas station for lunch? I mean, unless your concept of a meal consists of Twinkies and those rancid-looking hot dogs in glass cases? I don't.
Well... I didn't.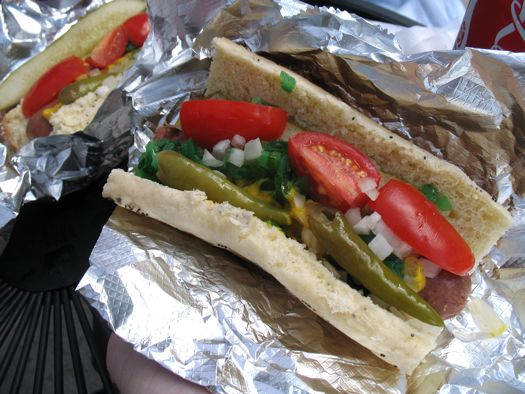 As part of Lunch Week, we thought it would be fun to have an informal lunch meetup.
So... AOA's having a totally informal, no-sign-ups-or-anything lunch get-together this Thursday in Capitol Park in Albany (it's the park just behind the Capitol with all the lunch trucks).
We're planning to be there from noon until about 1 pm or so. If can you can stop by during your lunch hour, it'd be great to see you. (Weather permitting, of course. Let's hope.) We'll be over by the Nipper's stand on State Street (look for the rainbow umbrellas).
Hot dog bonus!
The guys from the Nipper's Hot Dogs will be offering an AOA special that day: two classic Chicago-style hot dogs for $2. We can speak from experience -- these are good dogs, and filling. If you bring a friend, you can probably both have lunch for about two bucks.
And remember: Wednesday is snap a pic of your lunch and send it to AOA day. Two people will win $25 toward lunch at their favorite local spot.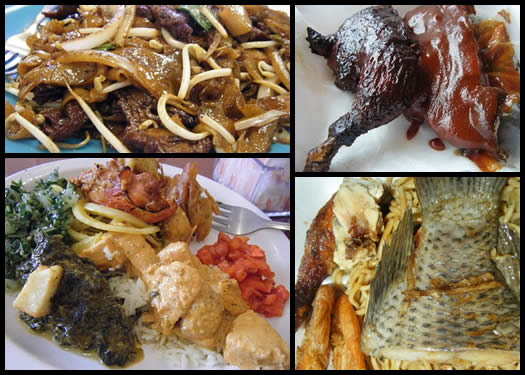 By Albany Jane
When I picture lunch, I want something satisfying, but not over-the-top. It needs to be affordable, and obviously, flavor comes first.
Albany's got some great places to hit up for quick, cheap lunches.
In general, when someone asks me, "Albany Jane, where should I go for lunch in Albany?" -- these are the first places that immediately come to mind.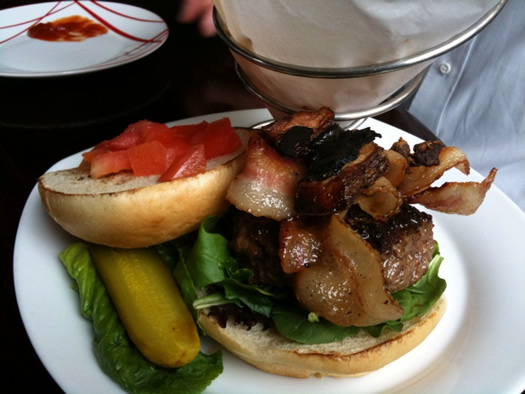 By Daniel B
It's Lunch Week on AOA! All this week we'll be featuring items the midday meal. Be sure to snap a photo of your lunch on Wednesday and send it to us -- you could win $25 for lunch at your favorite local spot.
It does not come with cheese.
And even though dp Brasserie offers its eponymous dp Burger on both its lunch and dinner menus, at the end of the day a hamburger is a sandwich, and sandwiches are for lunch.
Without a doubt, it is a decadent treat. And you will probably need a glass of red wine to keep you heart pumping while you are eating the thing.
The trick to enjoying it is not letting expectations get the best of you.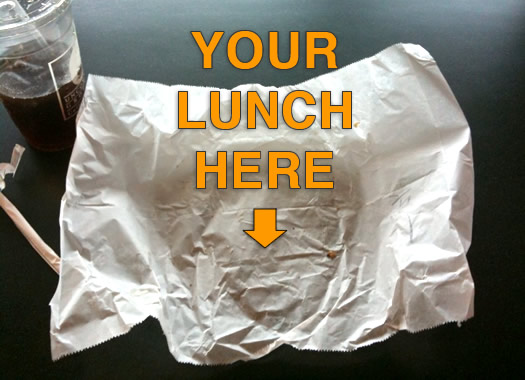 We have something new coming up next week on AOA: Lunch Week.
It's pretty much what it sounds like -- a whole week with posts about... lunch. There will be other stuff, too, including all the usual items. But every day will have at least one post about lunch. Trust us, it'll be fun. We have some excellent contributors lined up to help out.
Here's where you come in
On the last day of Lunch Week (Friday, June 18) we want to do a post about what everyone had for lunch that week. Specifically, the Wednesday of that week (June 16).
So, next Wednesday we'd love for you to snap a pic of your lunch and send it to us at this email address: lunch |at| alloveralbany |dot| com. Please include what's in your lunch, where you got it and how you'd like to be identified.
Lunch can be whatever you're eating that day -- a PB&J from home, a sandwich at your desk from the deli, Chinese at the place down the street, whatever. If you ate it around noon that day, it's lunch.
Everyone who sends along a qualifying lunch photo will be entered in a drawing for, yep... A FREE LUNCH. We'll pick two winners at random. They'll get a $25 gift certificate to their favorite local lunch spot (yep, the winner gets to pick).
OK, to review
Next Wednesday, snap a pic of your lunch and send it, along with a description, to lunch |at| alloveralbany |dot| com
We'll post the photos and descriptions on Friday
Two winners will get free lunch at the local spot of their choice
We all have some fun