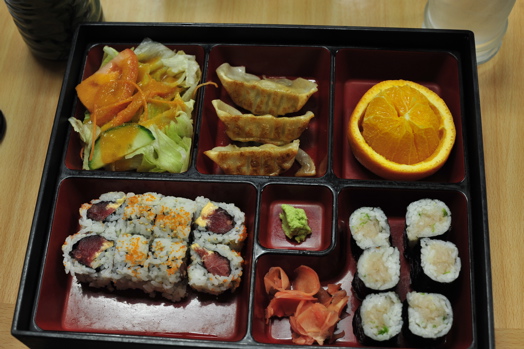 By Jessica Pasko
Something about a bento box, the traditional Japanese lunch box, just makes lunch seem a little more fun.
I can't entirely explain it, but being served a meal that's divided up into little individual sections holds incredible appeal. It seems tidy, precise, organized. And it's fun to look at. Of course, eating it is the most fun part...

I'm digging the bentos at Sushi Tei on Western Avenue in the Cosimo's Plaza. Here's the basic formula: pick an entree, which comes in the box's largest section. In the smaller ones, you get fruit, salad, and an appetizer (such as dumplings) and/or rice. Oh, and miso soup too.
The prices are certainly right. A chicken or salmon teriyaki box will cost you just $6.95, while a beef teriyaki or hibachi steak one will cost just under $10. Sushi boxes, which range from sashimi to maki rolls, cost anywhere from $9.95 to $12.95.
The box in the photo above shows off the sushi roll boxes, in which you pick two rolls from an abbreviated list and the whole shebang costs you just $9.95. Unless you're blessed with an enormous appetite, this should be more than enough food for one person. Did I mention it's also fun to look at?
While this is lunch week and the emphasis is on the midday meal, Sushi Tei also offers dinner bento boxes, which are bigger and a little pricier, but feature entree choices such as Shrimp & Vegetable Tempura or Flounder Fillet. Dinner boxes comes with crab salad, soup, fruit, rice and 1 maki roll. The prices for these range from $14.50 to $17.50.
However, to me, bento boxes seem far more suited to lunch time. They remind me a little of childhood school lunches, except far tastier. And with less risk of food fights.
Got a favorite bento box place? Pass it along.
Hi there. Comments have been closed for this item. Still have something to say? Contact us.