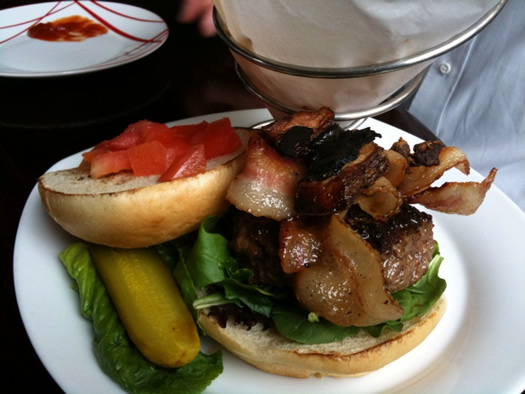 By Daniel B
It's Lunch Week on AOA! All this week we'll be featuring items the midday meal. Be sure to snap a photo of your lunch on Wednesday and send it to us -- you could win $25 for lunch at your favorite local spot.
It does not come with cheese.
And even though dp Brasserie offers its eponymous dp Burger on both its lunch and dinner menus, at the end of the day a hamburger is a sandwich, and sandwiches are for lunch.
Without a doubt, it is a decadent treat. And you will probably need a glass of red wine to keep you heart pumping while you are eating the thing.
The trick to enjoying it is not letting expectations get the best of you.
No matter how expensive it is, it is still just food. But in this case it is really high quality food with a pedigree.
What you get for your Jackson and Lincoln is a ground Kobe beef patty topped with shaved truffles, seared Hudson Valley foie gras and Kurobuta bacon. Under the patty are tender greens, and spread over the inverted top bun is a tomato concasse. On the side is a cone of super crisp fries and oddly, a completely unremarkable pickle. Given the evident attention to quality ingredients, the pickle really kills me.
Should you decide to try it yourself, here are a couple of tips.
First, make sure the waiter is clear on which burger you are getting. The dp Burger sounds remarkably similar to the evidently more popular Bee-Gee Burger.
Second, if you like your burger medium-rare, and by that I mean pink all the way through, make sure to order it rare. Sending back a $25 hamburger is a tragedy. And while they were very good about taking it back and firing a new one, honestly it still wasn't as medium-rare as I would have liked.
Next time, I will order it rare.
There were a few other missteps. Incredibly, when the waiter served the first $25 burger, it was missing its bacon! In short order a plate of Kurobuta bacon was brought to the table, and I put it over the tomato concasse (which you may notice contains capers).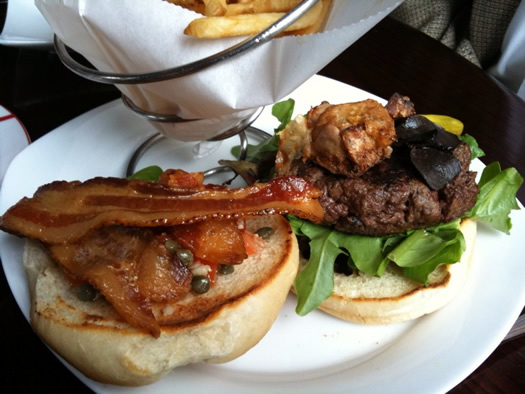 Because the first burger was missing its bacon, the little pile of what I suspect to be jarred shaved truffles and the modest piece of foie gras were front and center. The toppings are well composed, with a fan of truffles crowned by the seared goose liver. But burgers, even fancy burgers, demand coverage rather than composition. One wants a taste of every component in each bite, and this fanciful approach limits the number of perfect mouthfuls.
The second burger came dressed with its bacon, but was missing the tomato concasse. In its place was a simple scattering of diced tomatoes, which was mildly disappointing. The brine of the capers would have been a nice counterpoint to this rich and decadent sandwich. Generally the role of cutting through fat is reserved for the pickle.
In this town, Capital Q sets a high bar for house-made pickles. A Ba-Tampte half-sour purchased at Price Chopper would have been befitting the pedigree of everything else on the plate. And even a Claussen pickle would have been preferable to what was served. How this sickly green thing made it into the kitchen at dp is a mystery to me.
That said...
I wasn't here for the pickle, and all missteps aside, the dp Burger was delicious. The shaved truffles and Kurobuta bacon were the two things that really made it shine.
The truffles add their unique funk of earthiness that mushrooms can never achieve. And the bacon fat was both crispy and creamy at the same time. I was completely won over by the bacon.
The Hudson Valley foie gras, which I had considered the most decadent part of the sandwich, was delicious on its own. I couldn't resist just popping a chunk in my mouth. But, regrettably, I found its delicate flavor was lost between the meaty burger and the bready bun. More than anything else, it added a silky texture, to contrast the meaty beef and the crispy bacon.
Next time when the plate arrives, I'll eat the foie gras and some French fries as a starter before I tuck into the burger.
Despite its modest size, this burger not only filled me completely without feeling overly stuffed, but it also gave me a pleasant sense of satiety for the rest of the afternoon. I could barely even contemplate dinner, but somehow I managed.
Bottom line: It is one helluva lunch.
Daniel B is the proprietor of Fussy Little Blog.
Find It
dp Brasserie
25 Chapel Street
Albany, NY 12210
(518) 436-3737
Hi there. Comments have been closed for this item. Still have something to say? Contact us.