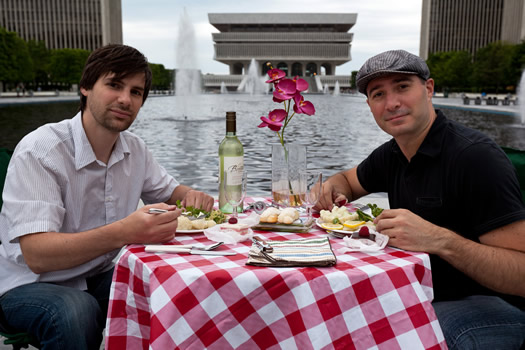 As promised, here's the second course of Lunch Week lunch photos. Don't miss the first course.
The photo above is Bennett and Sebastien enjoying lunch at their own impromptu bistro on the Empire State Plaza. From Sebastien's account:
On the menu? I brought a bottle of Sauvignon blanc and what I had cooked the night before: steamed cod and cauliflower, lemon and chives, guacamole and watercress. I picked up a couple of sweets at Crisan. Had to. Bennett packed... whatever he had until he decided my food looked better, so I shared :) And two cookies. Can't go wrong with that.
Many more lunch pics after the jump.
Again, thanks to everyone who sent along a pic! We'll announce the winners of the giveaway next week.
Slacker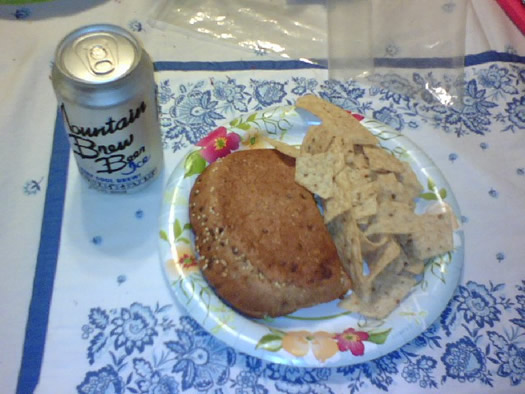 Let met class the place up a little with my homemade PB&J, tortilla chips, and Stewarts Mountain Brew Beer Ice!
Matt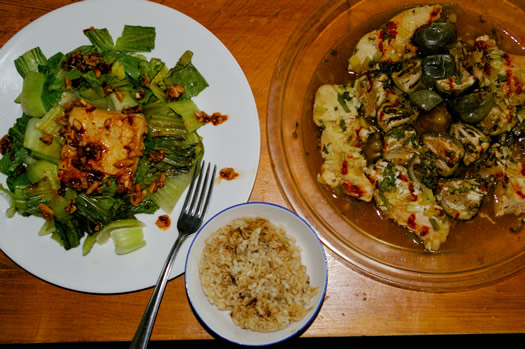 I feel like this is sort of show and tell. Here is what I had for lunch today. Brown rice with marinated pressed tofu, steamed with bok choy. I also had a boned, skinned chicken breast with thai eggplants in a spicy sauce.
CAPow!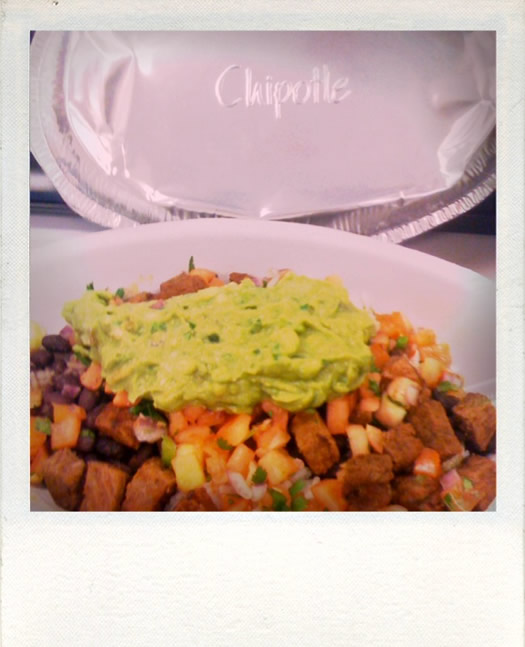 Steak burrito bowl with guac and black beans from chipotle in Clifton Park
Zoe N in Albany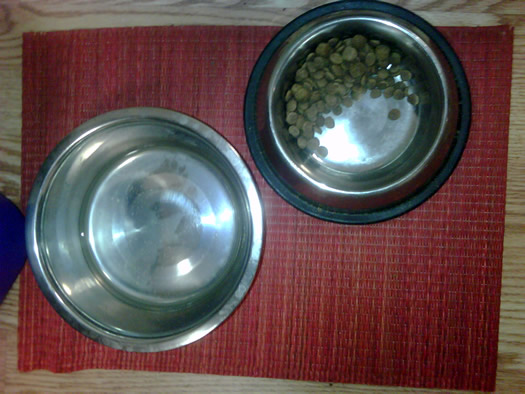 Jess Fink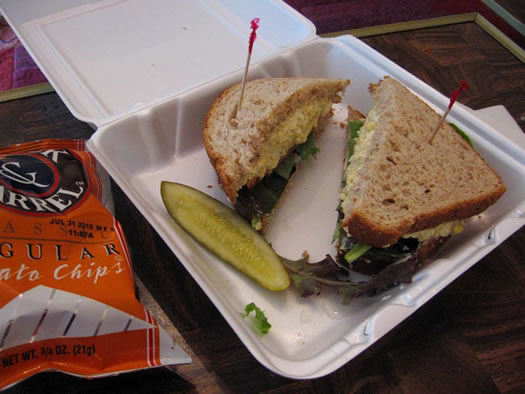 Wednesday is egg salad day at Francesca's in Troy! Francesca makes some of the most delicious sandwiches I have ever tasted. Simple, fresh ingredients and she somehow always remembers ALL of her customer's names! I can honestly say it's the best sandwich and soup shop around. (Thursday is Chili day and that is fantastic as well!)
In general I think Troy is some kind of lunch time mecca, there are so many amazing places within just blocks of each other. Not to go on and on about lunch, but these are my favorites:
The Placid baker: delicious and cheap Gourmet sanwiches and goodies
Albaraki: falafel and fantastic Lebanese food
Arnet's: classic diner food, only open for lunch!
Spillin the Beans: great coffee and awesome burgers
Manory's: also diner food but they make the best pancakes around
I love NY pizza: because everyone loves I loves.
Shalimar: still the best Indian lunch buffet
First choice Jamaican: the best jerk chicken I have ever had anywhere, the lunch buffet is great too
Badass Burrito: They make a mean vegetarian quesadilla too
Bagel heaven: the best bagel I have had off of long island, not too hard not too soft, just right.
anyway, sorry to prattle on! I like lunch!
M from Troy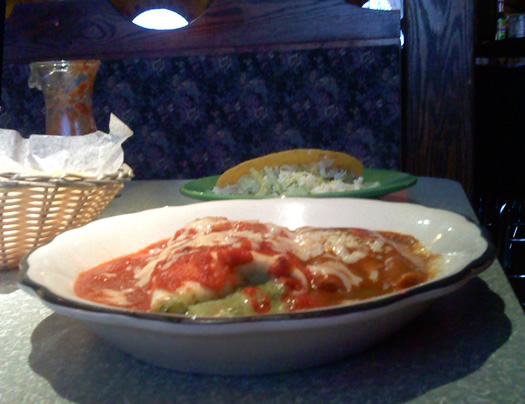 Pancho's in Albany - Los Tres Amigos: One spinach cream burrito, one cheese enchilada and one bean taco.
Karen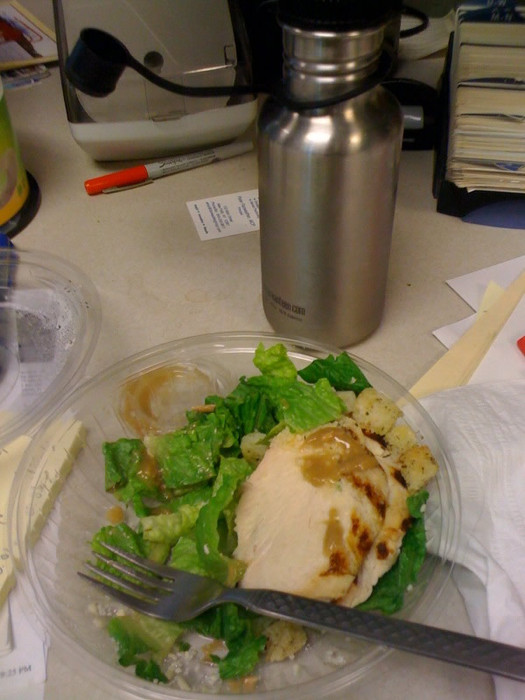 A typical desk lunch today. It is the chicken ceasar from Dale Miller to go. I also picked up some wasabi peas.
Laura Northrup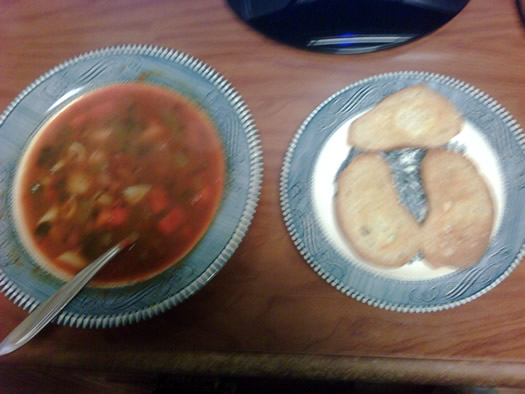 minestrone and tiny garlic toasts
@gps03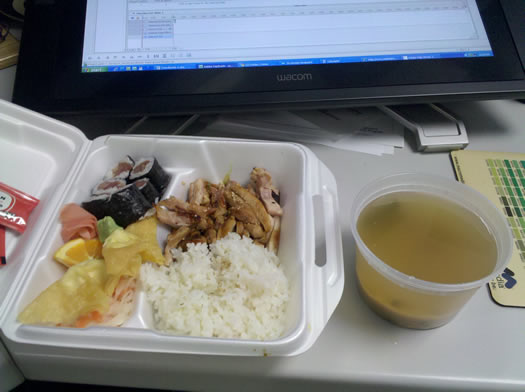 Lunbox special #2 tuna. Roll & chicken teriyaki from Ichiban: Miso soup, Rice, Chiken teriyaki, Tuna roll, Crab rangoon, Orange wedge, Shreded cabbage typ thing.
Jackers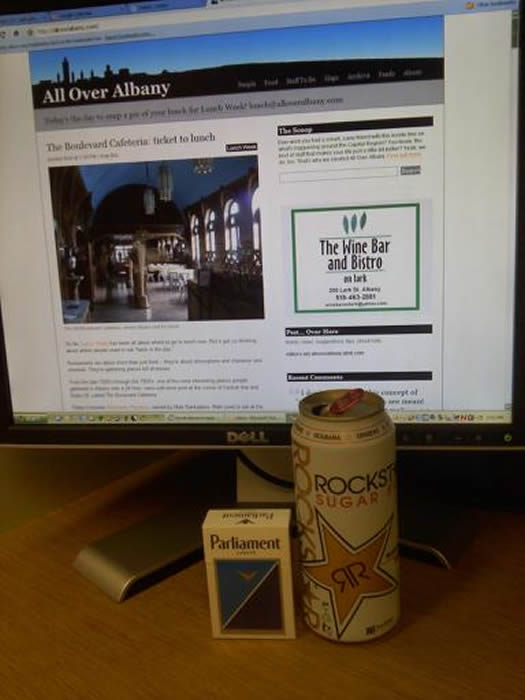 Budget lunch
Cassie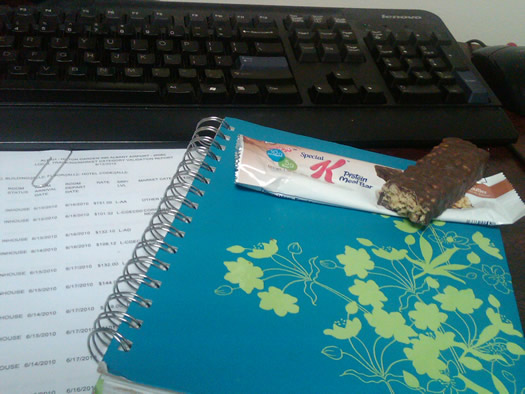 Marcie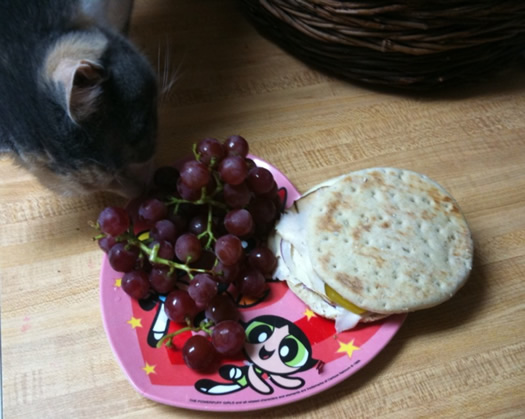 I walk home for lunch on days I'm too lazy to make a sandwich the night before or in the morning. Today I enjoyed a homemade turkey sandwich with grapes. Instead of going for the turkey, my cat, Katie, was more interested in investigating the grapes.
Lunch: turkey sandwich with mayo, red onion, dill pickle, and provolone cheese on a rye sandwich thin. Grapes on the side. At home.
Richard R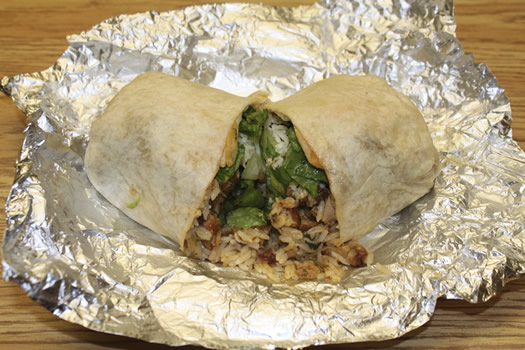 Today I had a Gourmet Chicken Burrito from Chipotle in Latham. I customized my burrito with rice, lettuce, cheese and medium salsa. Always awesome. Always tasty.
Kate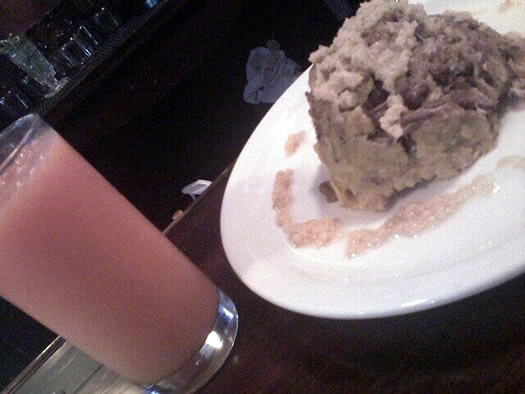 Dominican Mofungo and Fresh-squeeze Papaya juice from "Caribbean Breeze" on Western Ave near Lark St.
Stef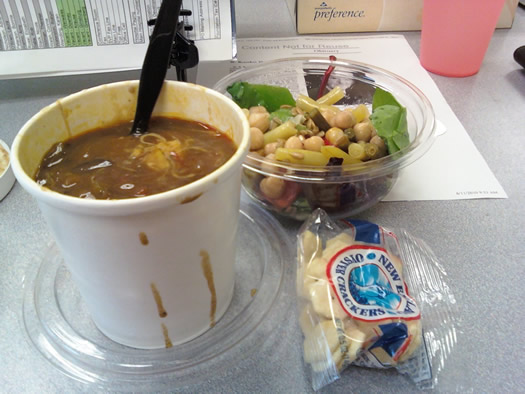 Black bean soup and salad bar salad from Choices Cafe, aka the Albany Medical Center cafeteria. Choices is convenient if you work at the hospital or one of their nearby satellite offices, but were I to win the gift card I would not be redeeming it here.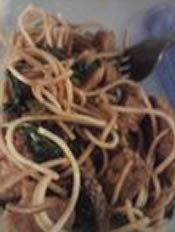 Jennathehun
I am a librarian who works in suburbia and found myself indulging far too often in the plentiful chain food options afforded to me near work. When my little container garden started teeming with veggies, I resolved to work a week without going out, and to start using the fruits and veggies of my labor. Today's lunch is a tempeh and kale stir fry, with green beans, cauliflower and broccoli (I only grew the kale, everything else was frozen). The pasta is rice pasta and I tossed it all with garlic, sesame oil, soy sauce, and a bit of apple cider vinegar. I always make sure to brown the tempeh first before putting the veggies in, so it is a bit crunchy.
Uncommon Grounds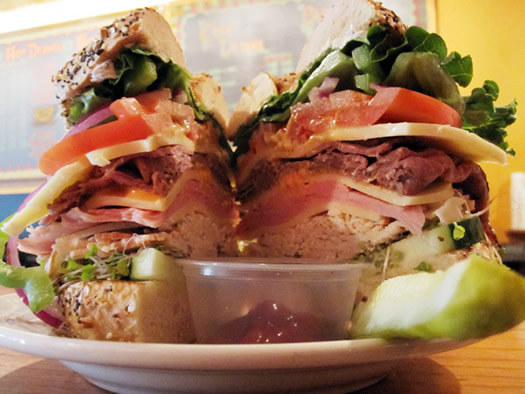 Here is what we at UG SS call "lunch" ->Everything bagel toasted, buttered, cucumbers, sprouts, bacon, turkey, mayo, cheddar, ham, dijon, swiss, roast beef, russian, provolone, onions, tomatoes, lettuce, green peppers, herb garlic schmear.
Total estimated cost: $12.90
Weight: 1.57 lbs.
Ned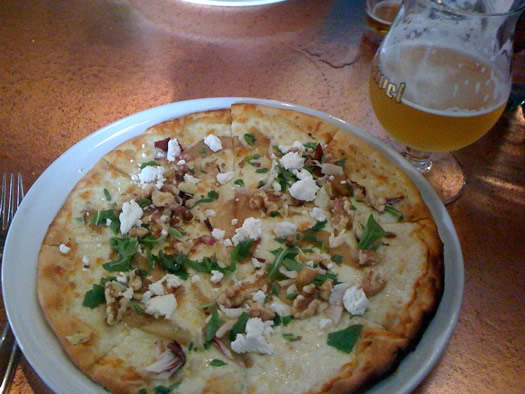 Honey Goat Cheese Pizza from Creo with a glass of Hennepin.
Liz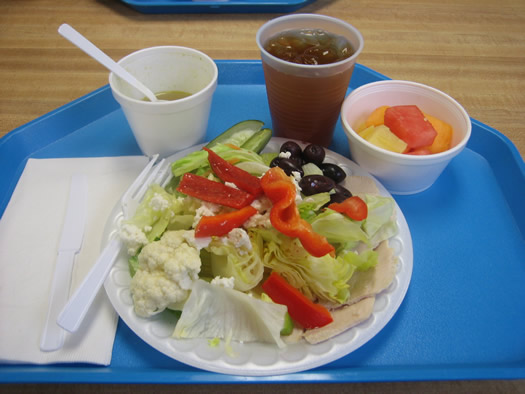 It's your basic soup and salad. The soup is chicken and rice (half eaten) and the salad is from the salad bar and includes turkey, kalamata olives, feta cheese, red peppers, pickle spears, cauliflower, and Italian dressing. Fresh brewed ice tea to drink and a fruit cup for dessert. This is from the cafeteria at my office. It's heavily subsidized by my company (I pay $2.00/wk) but is also closing on June 30th after 24 years. In addition to soup and salad they have a deli section and hot meal everyday. We are going to miss the food but even more so the people.
Jess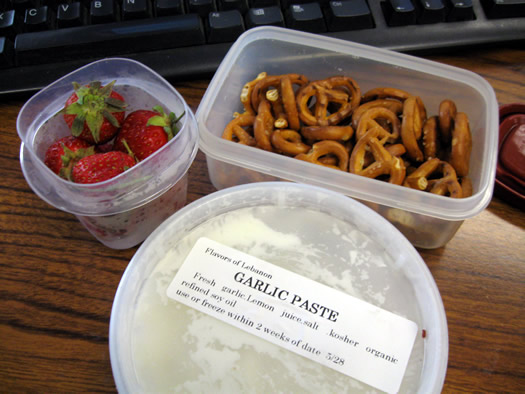 Wednesday's lunch: the infamous al-baraki garlic paste, gluten-free pretzels and local strawberries.
Not pictured: The several pieces of Trident that followed.
Erik M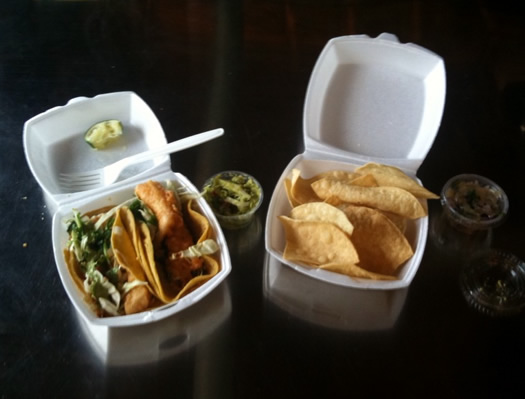 Baja fish tacos with a side of chips and guacamole from Bros.
Andy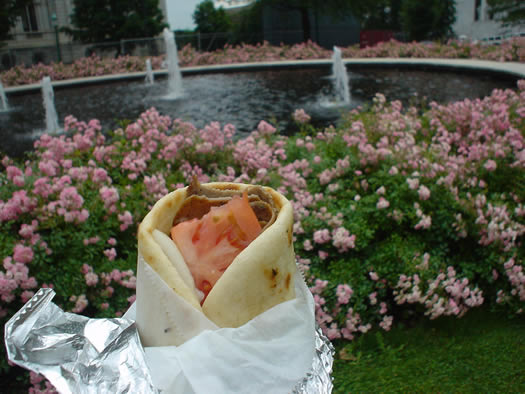 So, here is my lunch from wednesday. My wife has been busy with a conference, so I didn't have a home made lunch. :) I had a Gyro from the Greek Truck, around the park behind the capitol. On my way to get some Sugar Snap peas, and Cherries for dessert at the farmers market! :) The best camera is the one you have with you, so, I used my very nearly vintage 2Mpix point and shoot :)
I am andy, and I approve this message
Daniel B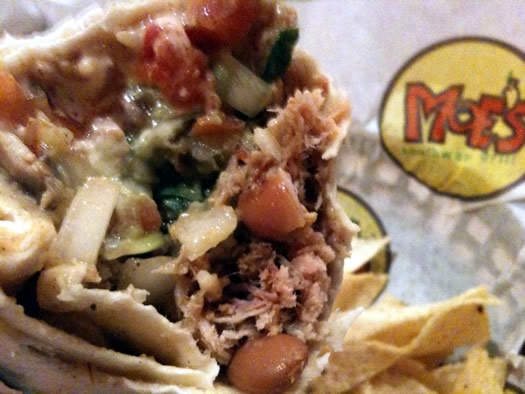 An ungodly burrito from Moe's.In an attempt to get a decent specimen from Moe's I had a lengthy and candid conversation with two off duty employees.
This is what we came up with: Pulled pork, a bit of rice, pinto beans, their special queso sauce, guac, salsa & sauteed mushrooms.
Verdict: If this is the best they've got, I am done with this place forever.
10th Ward Council Member, Leah Golby (Albany)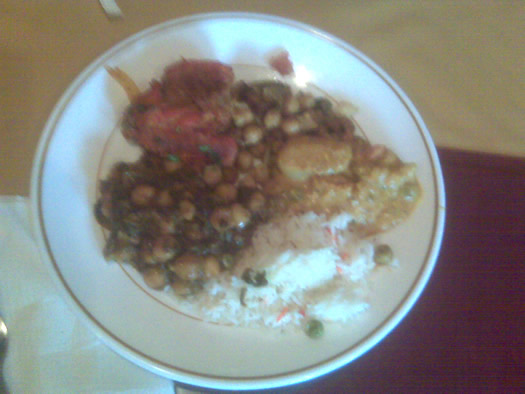 10th ward lunch at Curry House. Buffet lunch.Here's what's in it-
Clockwise: starting w/ the rice: basmati rice, chana saag(chickpeas and spinach), tandoori chicken, another chickpea dish- forgot the name, vegetable korma (a yummy, not spicy-hot, creamy dish)
Kelly Kramer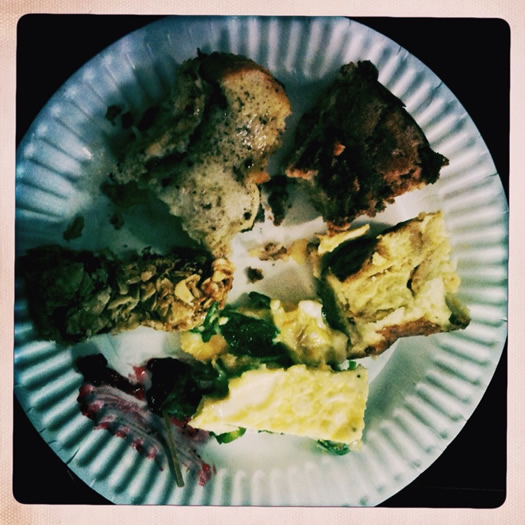 We had the BEST lunch at work yesterday, I can't believe I almost forgot to send my pic over. We decided on a breakfast-for-lunch themed potluck- best idea ever! Pictured on my plate below: cheesy egg and biscuit casserole, apple cinnamon French toast, homemade granola bars (from me!), Swedish meatballs with ligonberry jam (I think I gobbled up the meatballs before I took this shot), apple coffee cake, and baked Brie and spinach omlet. I definitely suggest to do something like this in any office, we had a ton of fun, and were fueled up for the rest of the day!
Brian K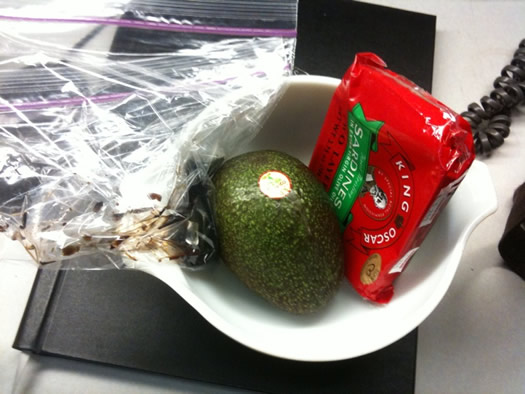 Brisling sardines, an avocado, and a baggie of balsamic vinegar.
AOA Greg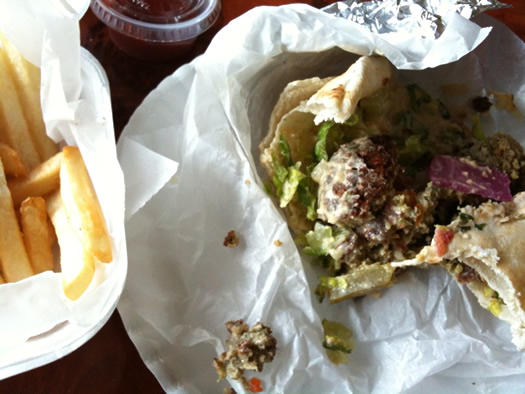 The falafel sandwich special at Layla Pizza and Falafel on New Scotland in Albany (falafel sandwich, fries, can of soda). The falafel is pretty good here -- make sure you get the pickles in the sandwich. And there was some good World Cup talk with the owner.
Hi there. Comments have been closed for this item. Still have something to say? Contact us.