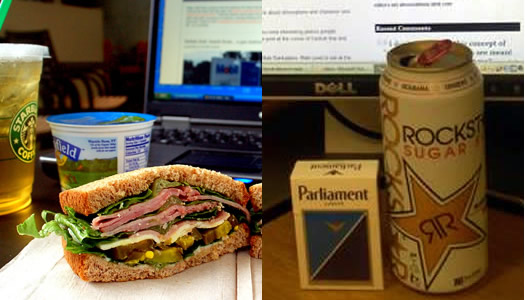 Thanks again to everyone who sent in lunch pics for Lunch Week! It was A LOT of fun to get a peek into so many lunch boxes.
As promised, two people are getting $25 toward lunch at their favorite local spot. And the winners, picked at random, are...
Jackers and Rob Madeo
Congrats to the those two gentlemen. They certainly had very different lunches (above).
Jackers and Rob have both made their gift certificate picks. The names of the places, with why they were picked, are after the jump.
Jackers pick: Capital Q in Albany
"EVERYTHING they make is fantastic, and the beef brisket on Texas toast with pickled red onions is pretty much the most delicious sandwich I've ever had."
Rob's pick: Four Corners Luncheonette in Delmar
"Four Corners is a nice little neighborhood joint with good food and a very laid back attitude. It's as comfortable as an old shoe, but smells and tastes much better."